Interested in purchasing the Analog Discovery 2 along with accessories? Check out our Pro Bundle, Ultimate Bundle, Student Bundle!
What is the Analog Discovery 2?
Digilent Analog Discovery 2 is a USB oscilloscope, logic analyzer, and multi-function instrument that allows users to measure, visualize, generate, record, and control mixed-signal circuits of all kinds. Developed in conjunction with Analog Devices and supported by Xilinx University Program, this test and measurement device is small enough to fit in your pocket, but powerful enough to replace a stack of lab equipment, providing engineering professionals, students, hobbyists, and electronic enthusiasts the freedom to work with analog and digital circuits in virtually any environment, in or out of the lab. The analog and digital inputs and outputs can be connected to a circuit using simple wire probes; alternatively, the Analog Discovery BNC Adapter and BNC probes can be used to connect and utilize the inputs and outputs.
Driven by the free WaveForms software (Mac, Linux, and Windows compatible), Analog Discovery 2 can be configured to work as any one of several traditional test and measurement instruments including an Oscilloscope, Waveform Generator, Power Supply, Voltmeter, Data Logger, Logic Analyzer, Pattern Generator, Static I/O, Spectrum Analyzer, Network Analyzer, Impedance Analyzer, Protocol Analyzer, and Curve Tracer.
USB Oscilloscope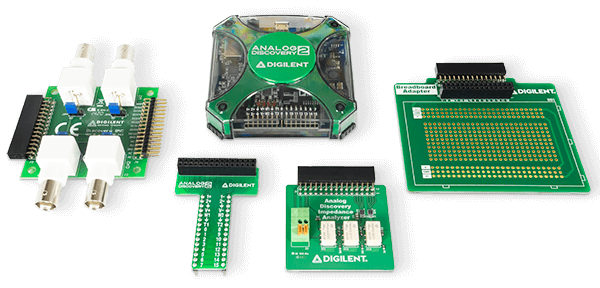 The Analog Discovery 2 is designed to be a portable alternative to a stack of benchtop equipment. It's durable enclosure measures (3.23 inch x 3.25 inch x7/8 inch) and fits in a pocket. The Analog Discovery can be connected to circuits and designs via the included female flywires, or used in conjunction with the included gender changers when a male connection is necessary.
Accessories can be purchased separately to provide additional functionality, such as the BNC Adapter for higher bandwidth and BNC connectors, or the Breadboard Adapter and Breadboard Breakout for a direct connection to the breadboard, or the Impedance Analyzer for additional Impedance measurement functionality. The Analog Discovery 2 comes packaged in a durable project box that will fit all the included accessories and some additional adapter boards. The project box measures (7" x 5.75" x 1.5") and provides even more durability when stashing your portable Oscilloscope and multi-function instrument in your backpack or briefcase.
For improved Power Supplies, integrated BNC connectors and a replaceable breadboardable interface check out the Analog Discovery Studio.
Two-channel USB digital oscilloscope (1 MΩ, ±25 V, differential, 14-bit, 100 MS/s, 30 MHz+*)
Two-channel arbitrary waveform generator (±5 V, 14-bit, 100 MS/s, 12 MHz+ bandwidth*)
16-channel digital logic analyzer (3.3 V CMOS and 1.8 V or 5 V tolerant, 100 MS/s)
16-channel pattern generator (3.3 V CMOS, 100 MS/s)
16-channel virtual digital I/O including buttons, switches, displays, and LEDs, which is perfect for logic training applications
Two input/output digital trigger signals for linking multiple instruments or providing an external trigger source
Two channel voltmeter
Network Analyzer with Bode, Nyquist, Nichols transfer diagrams of a circuit. The Network Analyzer has a range of 1 Hz to 10 MHz
Spectrum Analyzer capable of power spectrum and spectral measurements (noise floor, SFDR, SNR, THD, etc.)
Data Logger with exportable data and plot functionality
Impedance Analyzer for analyzing capacitive and inductive elements
Curve Tracer to analyze characteristics of discrete semiconductors such as diodes and transistors
Protocol Analyzer with SPI, I2C, CAN, AVR, and UART
Two programmable power supplies (0.5 V to 5 V , -0.5 V to -5 V). The maximum available output current and power depend on the Analog Discovery 2 powering choice.
Stereo audio amplifier to drive external headphones or speakers with replicated Arbitrary Waveform Generator signals
An available Software Development Kit for programming with Python and C++, and a toolkit for programming with LabVIEW.
MATLAB support for the Data Acquisition Toolbox

Product Compliance:

HTC:

8471809000

ECCN:

3A992.a

*Note: To achieve maximum bandwidth, use of the BNC Adapter for Analog Discovery is required.
What is WaveForms?

WaveForms is the free software application for the Analog Discovery 2 and enables use of the available analog and digital instruments. The software has been refined by customer feedback for over 10 years and features a computer and laptop friendly user interface that has the feel of traditional benchtop software. The Analog Discovery 2 communicates with WaveForms via a USB connection to your computer, allowing users to capture, record, analyze, and generate mixed signal and mixed domain waveforms. WaveForms can be downloaded and installed in under 60 seconds and can be tested without hardware using its demo mode feature. In addition to the use of instruments in the application, the WaveForms application has a script editor tool, which allows custom scripting of the instrument in JavaScript. WaveForms is designed to be run on a laptop or desktop computer and is Mac, Windows, and Linux compatible.

The following instruments are available in the WaveForms application for the Analog Discovery 2:

Oscilloscope
Waveform Generator
Power Supplies
Voltmeter
Data Logger
Logic Analyzer

Pattern Generator
Static I/O
Spectrum Analyzer
Network Analyzer
Impedance Analyzer
Curve Tracer
Protocol Analyzer

For even more customization potential, the WaveForms Software Development Kit (SDK) can be used to create custom applications and scripts in Python, C, and additional languages. The Analog Discovery 2 is also compatible with LabVIEW and the Digilent Toolbox for compatibility with MathWorks' MATLAB Data Acquisition Toolbox
The resource center for the Analog Discovery 2 is the central hub of technical content for the device, and contains everything to get started and reduce mean time to test. This includes a getting started guide, documentation, tutorials on each instrument, example projects, and a link to technical support.