Are you looking for some additional resources for your Digital Discovery and High Speed Adapter? Well look no further, for Digi-Key is here to help! Recently they published a Digital Discovery and High Speed Adapter Training Module on their website, and it is a great resource for getting started with the device.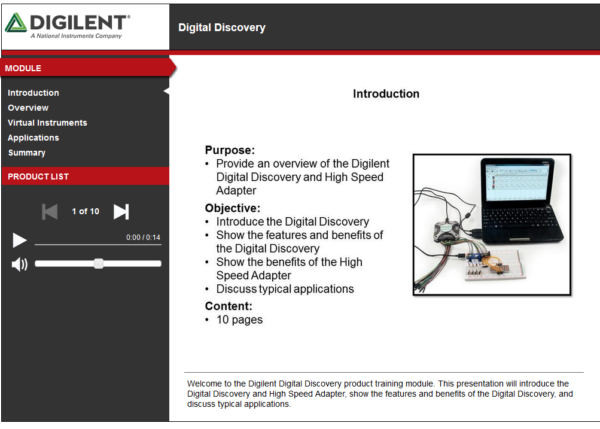 Conveniently broken into an introduction, overview, virtual instruments, application and summary, this tutorial is designed to "provide an overview of the Digilent Digital Discovery and High Speed Adapter".
The 10 page module covers the features and benefits of the Digital Discovery as well as highlighting typical applications. This can be very helpful if you are uncertain if the Digital Discovery is the tool for you.
The Digital Discovery was designed to be the ideal solution for test and measurement within embedded systems. It is primarily used for visualizing and analyzing digital signals within designs. This can be particularly useful when bugs are not shown in simulation or the cause of the bug is unclear. It can also be added to characterize and measure specifications within embedded system designs.
Please check out this training module on the Digi-Key website, and if you are interested in even more resources for the Digital Discovery and/or High Speed Adapter please check out the wiki or head over to the Forum to ask a question!