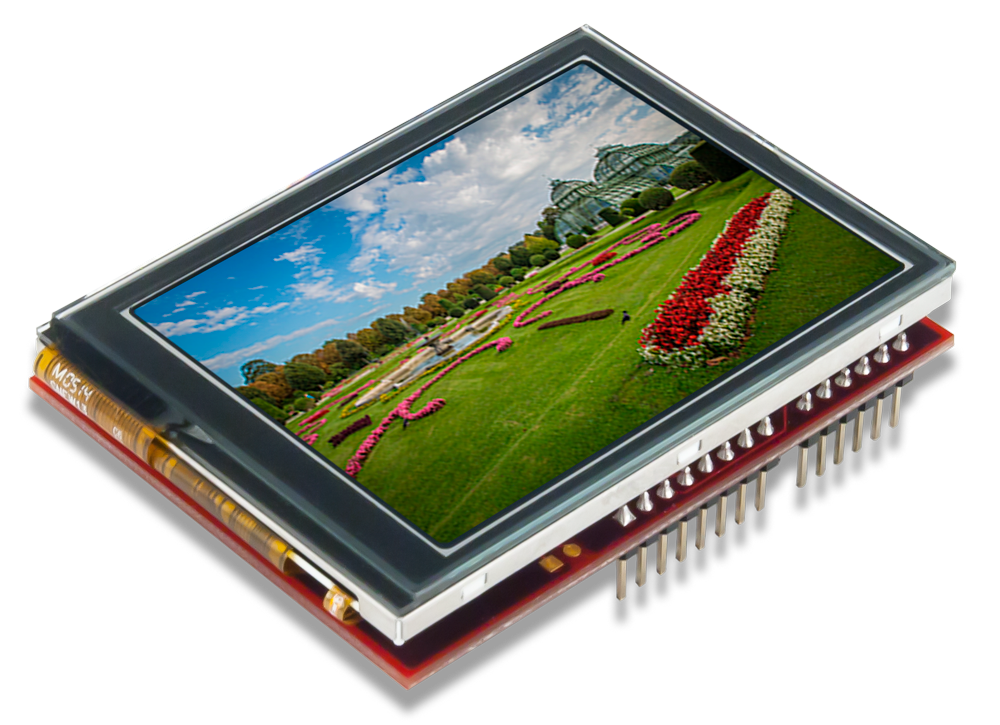 Introducing the Digilent Multi-Touch Display Shield!
The Multi-Touch Display Shield is a gorgeous 2.8" touchscreen display with a powerful on-board microcontroller that performs graphics processing tasks. The display is a capacitive touchscreen with QVGA resolution (320×240) and two finger multi-touch support.
Easy on the eyes as it may be, the most compelling aspect of the Multi-Touch Display Shield is actually the user experience. We put a lot of time into making this product user-friendly, so we're equally excited to announce the Multi-Touch Display System (MTDS) Firmware and the associated libraries!
The firmware plus libraries allow you to design sleek, stylish user interfaces very quickly and with very little code. The timing dependent tasks are handled by the firmware, so integrating the display into existing projects is also a snap. Some of the key functionality provided by the libraries include the ability to draw basic shapes and text, draw images stored on microSD with binary transparency, draw buttons and easily check if they have been pressed, and check the status and location of the user's two fingers. The libraries are supported in Arduino IDE and Xilinx SDK, and have been tested with Arduino, chipKIT, and Arty host boards.
The Multi-Touch Display System
The Multi-Touch Display System (MTDS) is a firmware/library combination that brings a revolutionarily simple (told you we're excited) experience to the process of designing embedded user interfaces (UI's) on touchscreen displays. The firmware comes factory-loaded on the Display Platform's processor, and the library runs on the host platform, providing the application designer with an intuitive API. The above image diagrams the hardware and software involved in a typical MTDS setup. The yellow blocks represent the MTDS software, the green block represents the user software, and the blue arrows represent hardware connections. Host libraries are currently available for Arduino IDE and Xilinx SDK.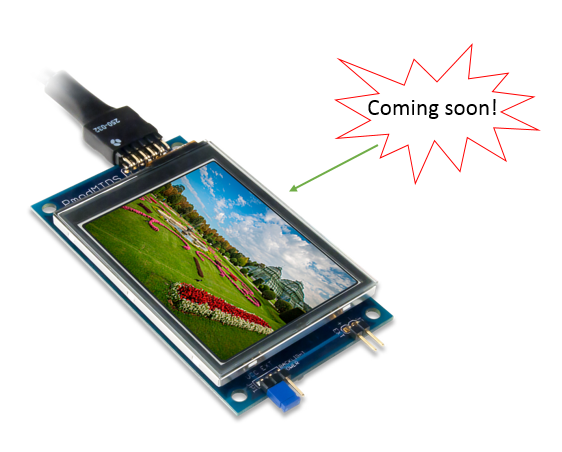 One of the best parts about the Multi-Touch Display System is that it is designed to support the hardware in other form factors. Hint: keep an eye out for the Pmod version coming around the corner!
Getting Started
To get started with Arduino IDE or MPIDE, go to the Multi-Touch Display System wiki page and download the Arduino package available in the Latest Downloads section and follow the included Quickstart.txt guide.
To get started with Xilinx SDK on your Digilent FPGA platform, follow the Using Pmod IPs tutorial and use the PmodMTDS IP core. This is the appropriate core to use whether designing with the shield or the Pmod (Pmod coming soon). For more detailed instructions, see the MTDS wiki page, linked above.
For any questions please comment below or visit the Digilent Forum and post under the add-on boards section.