You may be familiar with Digilent Pmods, the line of small add-on boards designed to expand the functionality of FPGA and microcontroller (MCU) development boards. But even if you have been exposed to Digilent Pmods, you may not realize that the Pmod Standard is an open standard, and is integrated into products by companies and individuals all over the world. The Pmod community consists of professional engineers, makers, students and instructors from around the world, and now the community is finally brought together with the introduction of Pmod.org!
Pmod.org is a community site dedicated to enabling both designers and consumers with a go-to add-on board standard for rapid application development. There is now a single location where users can go to access hardware in the global Pmod ecosystem, as well as a place for designers to find up to date design resources. Here are some highlights of the site.
The Ecosystem
The Pmod ecosystem includes products designed by companies such as Xilinx, Cypress, Trenz, Avnet, Maxim Integrated, Renesas Electronics, and of course Digilent, just to name a handful. These products span application spaces from sensor fusion, to audio, to security, to IoT and many more. The value of the ecosystem to users and designers is readily apparent, but only if the products can be easily accessed. The "Ecosystem" section of Pmod.org is dedicated to just that, curating the world's largest library of Pmod hardware and creating access to products. It is an ongoing process and will be improved by the community getting involved and creating awareness about new products or previously undiscovered products that are out there. This includes Pmod boards as well as Pmod host platforms.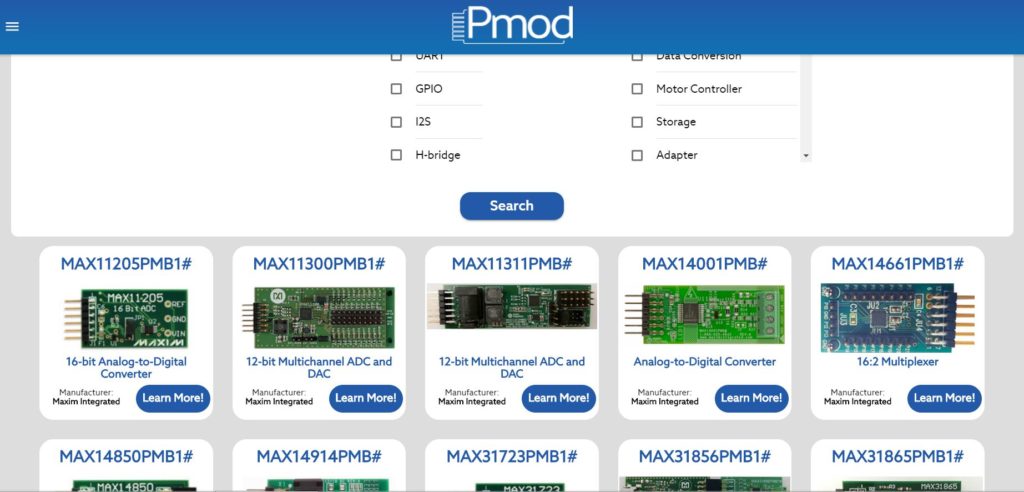 Hardware Design Resources
Another major motivation for creating Pmod.org, was to provide a single location where those looking to contribute to the ecosystem can find up to date, detailed design resources. The Digilent Pmod Interface Specification has existed since 2011, but as with many standards, it can be challenging for designers to tease apart the necessities from the nice-to-haves when designing products. Under the "Design" section of the site, there is now an extensive list and explanation of Pmod "Best Practices" for hardware design and documentation/software support as adhered to by Digilent. Now designers can confidently create Pmods and Pmod host platforms for maximum compatibility within the ecosystem. In addition to the best practices, the "Design" section also includes mechanical drawings, 3D CAD files, and layout examples of the different pinout types included in the Pmod spec.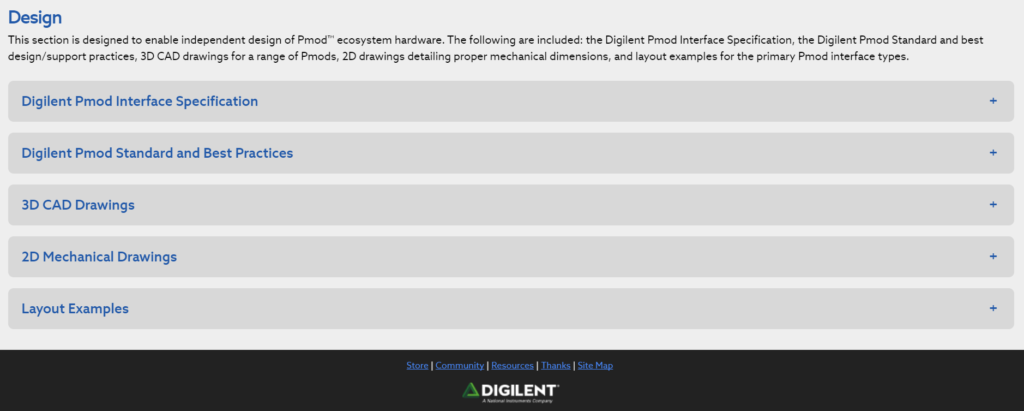 Projects, Documentation and Support
With any hardware, finding support, documentation, projects and other material in the sea of content that is out there can be difficult. The "Use" section of Pmod.org is designed to both pull together Pmod content and tools for users, but also for product designers looking to support their products according to best practices. Currently, this section is written around Digilent support and documentation, however as Pmod.org matures, it may be expanded to directly include resources for non-Digilent designed Pmod products as well. For the time being, the community is encouraged to post Pmod related projects to projects.blog.digilentinc.com.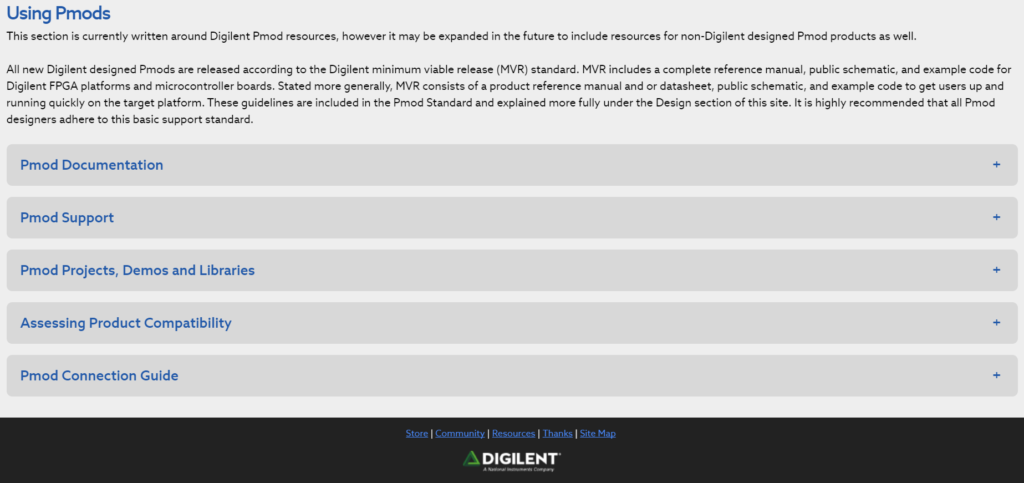 Pmod.org Phase 1
What we are announcing today is phase 1 of Pmod.org. If you click around on the site, you'll likely notice some things are still under construction, especially the "Ecosystem" page where we are still actively adding products. Most importantly, the site is not yet set up for direct engagement with the community through account creation or other feedback mechanisms. We have plans for this in the near future, but for now, if you have any suggestions or would like to see a Pmod product listed that is not, please comment in the section below. Stay tuned as we add features, products and information!