In April 2013, the White House challenged our country with a mission to improve its teaching strategies in regards to science, technology, engineering, and mathematics (STEM) (Obama, 2013). As our need to fill STEM occupations grows, recent events like the National Week of Making and the ASEE conference have begun to promote innovative ways to reach different types of students. However, despite these efforts we are often challenged to find new ways to effectively introduce engineering to non-engineers.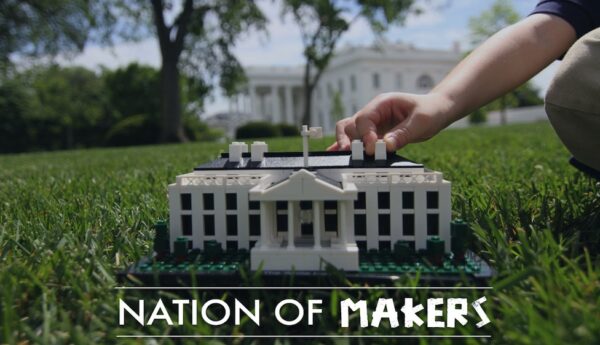 While we believe that anyone can learn engineering, it is important to interact with each personality type differently to avoid unintentional discouragement early on. After speaking with a variety of personality types around our office, we recount personal experiences that helped each Holland Code personality type develop their passion for engineering.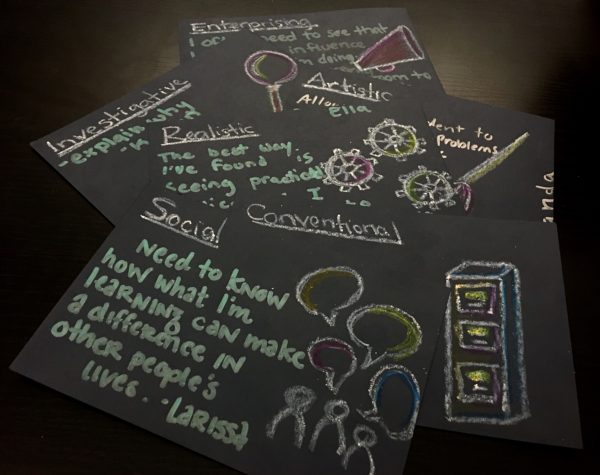 The Holland Codes: According to the Holland Codes, there are six distinct personalities that work well in specific environments. These personality-based interest groups were originally developed by John Holland to help guide individuals towards job categories that might motivate career development. Introducing engineering or STEM concepts with these categories in mind can help create a comfortable and engaging environment that encourages future success.
To gain a better understanding of how to empower each personality type described above, we asked individuals around the office about their personal experience with engineering. Each individual then reflected on what style of engagement worked best with their personality type, and a photo was taken of their response. Learn about the different personalities below and find your best strategy for appealing to each student while improving the diversity within your STEM classes.
The Investigative Student: What might be considered a traditional engineering student; a person who enjoys analytical activities with an emphasis on solving problems with science and math.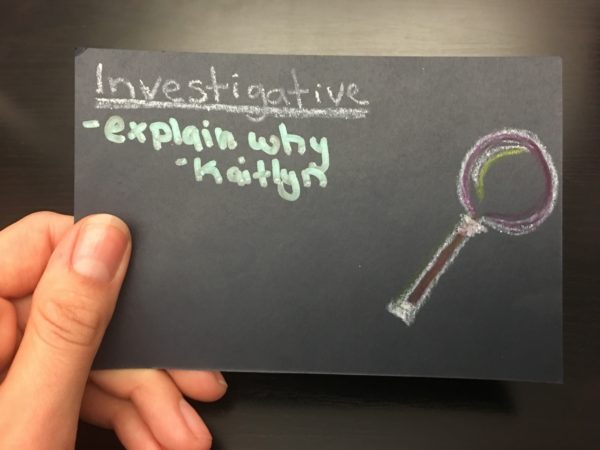 Investigative students are easy targets for STEM introduction as they are usually supported by the traditional academic structure. Their innate appreciation for math and science topics makes project introductions simple, especially when they are presented with a problem to solve. They are not hindered by unknown technology, as these devices are quickly deciphered from an analytical perspective.
Introducing STEM concepts to the investigative student should be done with some care, such as explaining why something works or is important to investigate. Without proper reasoning, these students may lack the drive to find solutions to the problems you present. However, when carefully cultivated, these students are able to work independently towards a positive appreciation for STEM related topics.
After acquiring the background knowledge to support basic engineering projects, these students will do well with more advanced projects that require some additional thinking. Student-aimed FPGAs, like the Arty or Zybo, will encourage students to nurture their analytical thinking skills through projects that teach LED programming or an interactive Zybot robot creation.
The Artistic Student: An individual who enjoys ambiguous thought processes and working in unstructured settings with the capability for creative expression.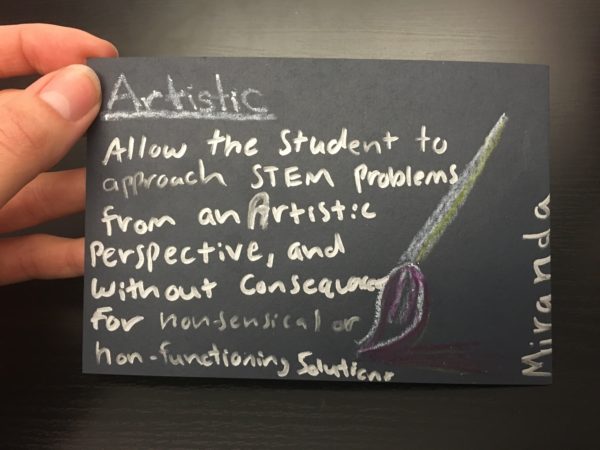 When introducing STEM concepts to artistic students it's very important to present the opportunity for creative expression. One of the common problems for artistic students is that traditional academic systems tend to encourage artistic expression associated with visual creations, limiting expression through science or math related projects. This can create an atmosphere where students do not feel free to express themselves in STEM because it is considered too analytical or presented while limiting the student's independence.
While technical concepts are important foundations in learning STEM, when reaching artistic students it is more advantageous to encourage creative learning. Giving students the chance to work with materials hands-on and learn by making mistakes will help empower artistic personalities and grow positive connections. Adaptable products that are easier to understand without significant background knowledge will get these students moving and learning while growing their STEM knowledge base. Easy-to-learn product categories for creative expression include project kits (such as robotics kits) and microcontrollers, as these products are supported by extensive online communities with a wide variety of project ideas.
The Social Student: One who enjoys helping others succeed, working within group settings, and using words powerfully to mediate or enlighten others.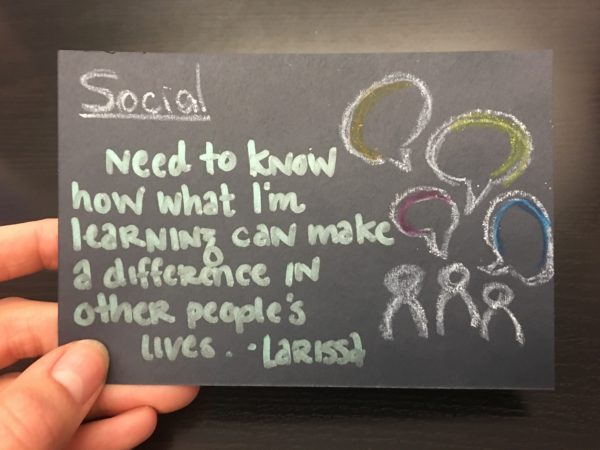 Social students somewhat float in the middle of any academic type with the ability to jump between groups and work as the general foundation. These students do well with helping others succeed, thus learning the concept themselves as they strive to teach and supervise group success. Their personality emphasizes a cooperative attitude that is used to help others understand different uses for the materials at hand, so paying attention to their overall level of understanding may help others within the class learn just as quickly.
Introducing STEM concepts to these students can result in positive experiences when the social student recognizes that what they are learning is meaningful in others' lives. Teaching humanitarian topics or explaining why something is important to our society is a fantastic way to guide these students towards STEM acceptance. Products that facilitate this learning may include anything from microcontrollers to FPGAs, with an emphasis on group work while completing the project.
The Enterprising Student: A person who enjoys leading others with persuasive tactics, acting with a particular interest and geared towards success.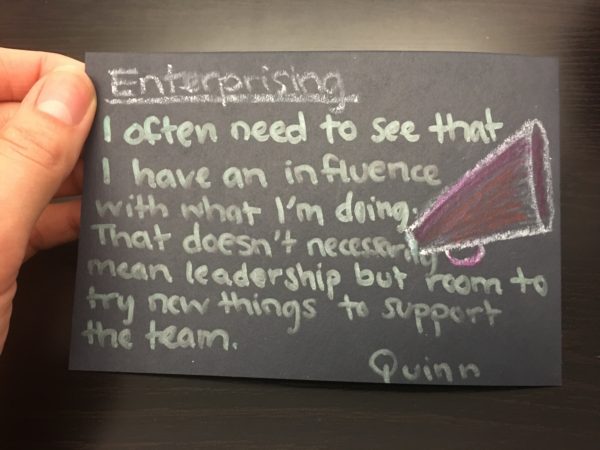 Similar to the social student, the enterprising student will appreciate leading group work in pursuit of educational or social gain. These students will especially flourish when granted the power to organize activities, such as granting them team leadership on a robot building competition. One thing to consider is that these individuals may hinder group expression while attempting to persuade members towards an envisioned goal.
When working on STEM projects these individuals will do well when given the power to try new things without consequence. Their adventurous nature is not quite that of the artistic students, however the enterprising student does need room to grow and strive towards a favorable goal (i.e. winning a competition). Teaching these students also requires educators to regularly monitor overall project progress, as these students may become discouraged following failure, unlike the investigative student who will search for new solutions.
The Conventional Student: An individual who appreciates systematic work with the ability to follow tasks and effectively maintain organized environments.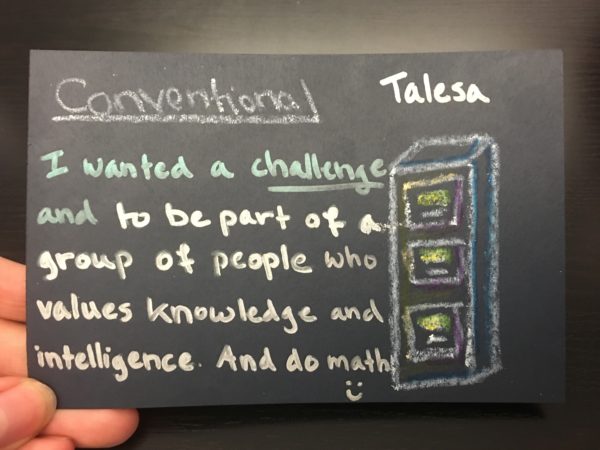 The conventional student requires substantial structure when learning new concepts or being introduced to new ideas. These individuals favor rules and systems of organization that assist with problem solving approaches and well-organized responses. Making these students happy when introducing STEM can be quite simple as their tendency to pursue systematic environments are heavily supported with the large body of rules inherent in most STEM concepts.
An effective method for teaching the conventional student about engineering is by starting with the fundamentals and applying these to functional projects. These projects should use clear procedures and efficiently help solve a problem in order to be considered valuable by these students. Following a set of guidelines will help these students succeed and appreciate STEM projects while enjoying their learning process.
The Realistic Student: These individuals like to push their athletic or mechanical abilities with projects that require problem solving. They sometimes find their way to mechanical or electrical engineering careers.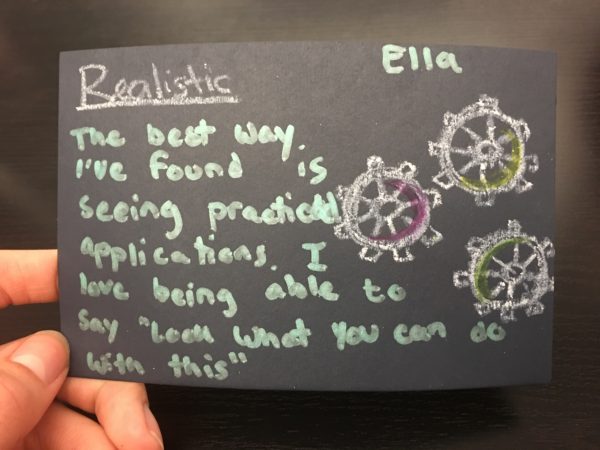 The realistic student is highly independent and greatly enjoys solving problems by finding a physical "fix" (i.e. using tools and/or machinery). As younger students these individuals may not have been provided the independence or prior experience using tools to fix their problems. This often leads to creative problem solving with the use of innovative materials within their reach.
Giving these students a specific problem to solve with tools that help them accomplish this solution will encourage significant growth towards STEM adoption. Possible topics that will help these students thrive include working with circuits or visual programming software that connect hypothetical problems with real world solutions. Allowing the realistic student to work with their hands will greatly improve their overall learning experience and encourage future STEM support.
_______________________________________________________________________________________
No matter what personalities are in play, STEM should be introduced with fun activities that do not excessively challenge specific individuals. Although some problem solving is essential in building student confidence, one major consideration regarding STEM introduction is presenting the proper resources to help each student succeed. By paying attention to general attitudes, you can successfully introduce new subjects and help break down the barriers for all students to achieve victory in science, technology, engineering and mathematics.
How have you inspired STEM in your classroom or at home? Let us know in the comments below!