WaveForms 2015 is the user interface that controls the Analog Discovery 2 and Electronics Explorer Board, and gives access to all of their benchtop functionality. We have just posted a new version of WaveForms 2015, version 3.4.7 available for download on the wiki. WaveForms 2015 3.4.7 left the overall look and existing functionality of the Analog Discovery 2 alone, but has added some very useful tools.
Here are some of the highlights:
The Voltmeter Tool is Back! Due to popular request we've added the voltmeter tool back into WaveForms 2015. The same functionality is available on the more complex Data Logger. However we understood that many people missed the simple and easy to use interface of the Voltmeter. I know I did, so I am pretty glad that it's back.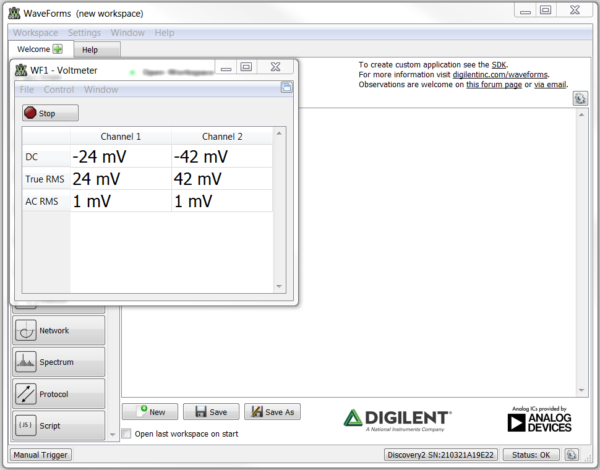 We've added a Protocol Interface. Previously you were able to receive and analyze protocols such as SPI, I2C, UART, CAN, and I2S in the logic analyzer.
With 3.4.7 you still have access to these tools, but in addition can read and write using UART, SPI and I2C in the newly added Protocol Interface. Now in addition to testing the output of your projects, you can test other digital circuits, like Pmods, and how they receive data.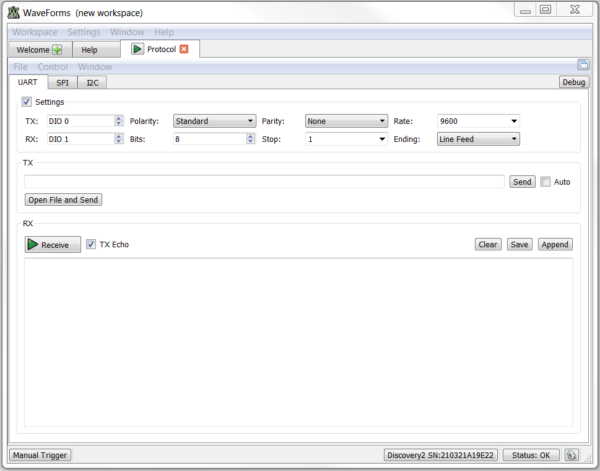 Date, time, and device stamps were added to Export. We've been receiving feedback that when students submit their work, its hard to check if that work was original. We wanted to make learning electronics as accessible as possible, but its important that academic integrity isn't lost. So we've added a comment to the export feature of WaveForms 2015.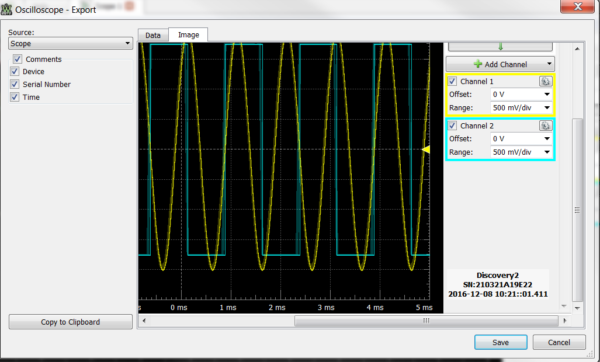 Now when a student exports their work, there will be a date, time and device stamp, so professors can easily check that the work is unique to each student.
Navigation By Event added to the Logic Analyzer. Another addition to the functionality to enhance logic debugging is the ability to view and navigate through signals by event. If you click on control and open the Event tab, you can view all of the events in the current acquisition and their locations in time. This is especially useful for large acquisitions.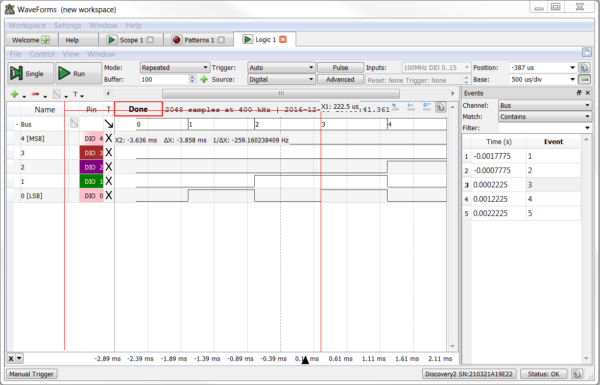 The ability to import, not just export data has been added to the Logic Analyzer and Oscilloscope. If you have data from earlier acquisitions or different applications, you can import that existing data.
For the full list of changes view the change log on the reference page.