I'll admit that I didn't quite "get" the PCB Ruler at first. Sure it provided a convenient place to connect Pmods, but the PCB design means any other connections would have to be soldered anyway, right? How exactly are we expected to use it?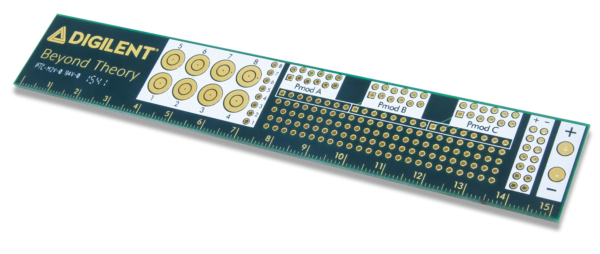 As I worked with it, however, I began to realize how it could be used as a much more versatile test bed for Pmods. Let me explain.
There have been plenty of projects already that use the PCB ruler. I was not contesting it's use in a complete product. I was more interested in how to take full advantage of the ruler's cleverly designed Pmod connections, which allow you to connect Pmods without soldering. I wanted to use the ruler as a modular test bed, that would allow me to try out Pmods, without needing to solder connections, but also without needing a full breadboard.
My idea came when I was looking to make a simple project using the ruler. We were shooting some video, and needed something quick, that wasn't complicated or expensive. I felt that the ruler's built-in touch-pad style buttons would work well with the Pmod LED. To test it out, I plugged the LED in, wired a quick connection to a button, connected the ruler to a power source, and voila, I had a simple functioning circuit!
This got me thinking. If I expanded the circuit a little, and added some female headers, I could turn the ruler into the general test bed that I'd always wanted it to be! Finally everything clicked into place!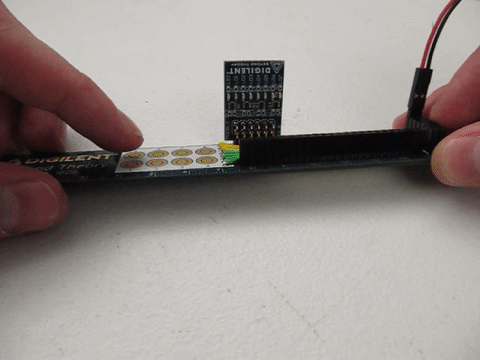 After about half an hour's work, I was finished! A quick test showed that the ruler had exactly the functionality I needed, plus some additional features I was looking forward to using! Paired with my bread-boarded DP32, I now have a simple set of tools to let me quickly prototype and test a wide range of circuits!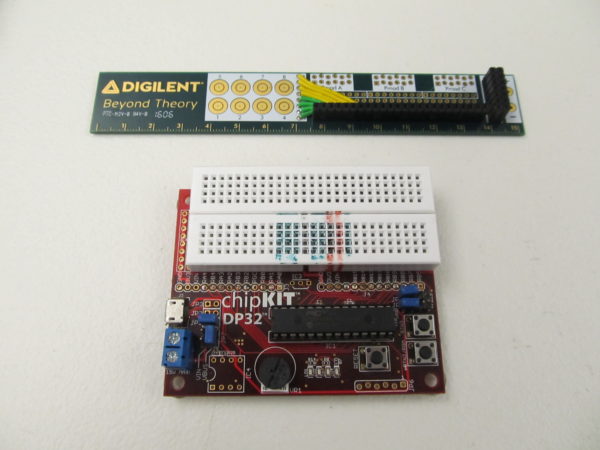 But that's not why the PCB Ruler works so well. My modification might be exactly what I need, and many of you may even decide to make one for yourself, but that's just one of many ways you can use the PCB Ruler! It's a great base for convenient, but ultimately open-ended features. How each feature fits in to your projects however, that will be entirely up to you.
In addition to that, it's also a very nice ruler!