Have you been spending a lot of time developing a test bench for your latest RTL design? Or, perhaps you're only a little familiar with FPGA, and you're looking for some tools to make your life easier. Check out VAXEL-EZ.
Digilent has partnered with the hardware design verification professionals at VAXEL Inc. to support their Affordable Design Verification Acceleration Platform on Digilent's Eclypse Z7 and Zybo Z7 boards.
VAXEL-EZ is all about saving time. With a UI-driven FPGA synthesizing tool, over 60 pre-validated verification IP blocks, an easy-to-use Command Line Interface, and C and Python libraries, you can get software engineers involved in RTL verification and improve the RTL design quality early in your project.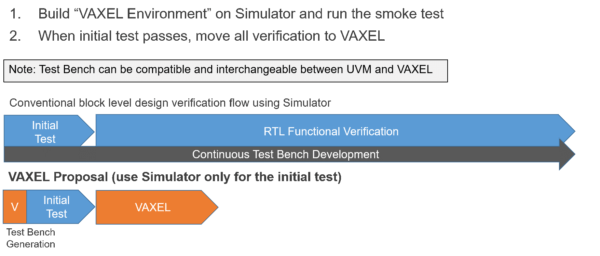 VAXEL-EZ boosts productivity of algorithm verification processes on Digilent FPGA boards. The package includes a set of utility software that runs on Windows to facilitate tasks ranging from automation of FPGA synthesis to execution of tests. With VAXEL-EZ, no FPGA expertise is needed to take full advantage of the Digilent FPGA boards.
VAXEL has a dedicated partner page in the Digilent Store, where you can get a VAXEL-EZ license bundled with a Digilent Eclypse Z7 or Zybo Z7. You can also get a stand-alone license if you already have the hardware. An academic discount is available on the stand-alone license and Zybo bundles for students and professors with verified accounts.