If you're familiar with Digilent, you might have seen the Pmod, Cmod, and Zmod names floating around. Pmods are very popular, but what about the Cmod? What does it mean? Cmod is short for "Carrier Module", which is a DIP form factor board built around an FPGA. The DIP form factor makes Cmods breadboard-friendly and enables quick and simple integration of an FPGA into a breadboard circuit, making it a great option for circuit design, prototyping, and learning/hobby projects.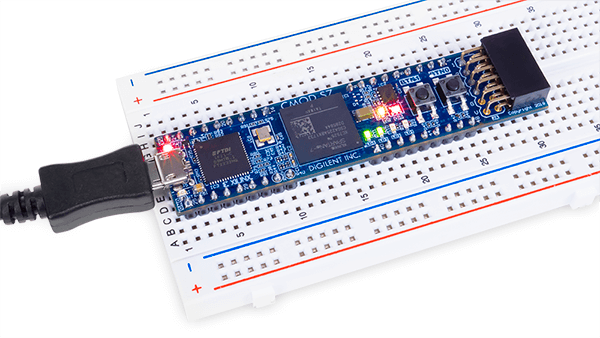 The FPGA digital I/O pins are routed to 100-mil-spaced through-hole pins so you can integrate your programmable logic design directly into a solderless breadboard circuit. If the FPGA on the Cmod has them available, you will also find analog input pins and external power rails routed to the Cmods through-hole pins for breadboard circuit integration.
Different modules of Cmods will also offer additional features, such as Pmod connectors, push-buttons and LEDs for user input, on-board clock sources, and USB-UART and JTAG programming.
Digilent currently offers four Cmods: the Cmod A7, Cmod C2, Cmod S6, and Cmod S7. These Cmods are built around Xilinx's Artix-7, CoolRunner-II, Spartan-6, and Spartan-7 devices, respectively.
You may also be interested in the RoadTest Reviews featuring the Cmod S7 on Element14:
Using a Cmod S7 to Build a Sample Digital Circuit
Using a Cmod S7 to Build a Scan-based Serial Communication