Announcing the latest addition to the Digilent Pmod sensor family, the PmodISNS20! This small add-on board uses an Allegro ACS722 Hall Effect current sensor to add both DC and AC current sensing ability to Digilent's line of peripheral modules (Pmods).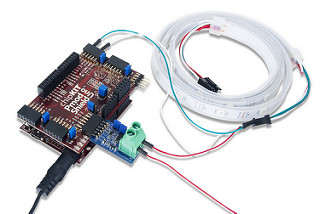 Input range is ±20A and the output is accurate to within ±2%. The PmodISNS20 is electrically isolated, quiet and properly scaled for you right out of the box!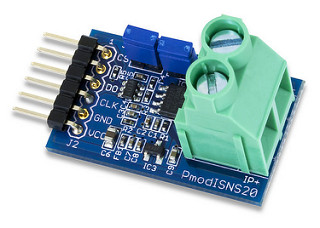 This product is more than just a break-out board for the Allegro ACS722. In addition to the 20 kHz and 80 kHz sampling rates offered by the chip itself, we've added an analog filter to bring the noise down and enable common <120 Hz AC applications. The two jumpers on board allow the user to easily switch between 120 Hz, 20 kHz and 80 kHz sampling rates. We've also integrated a 12-bit analog-to-digital converter from Texas Instruments to insure the delivery of useful measurements with no additional circuitry needed.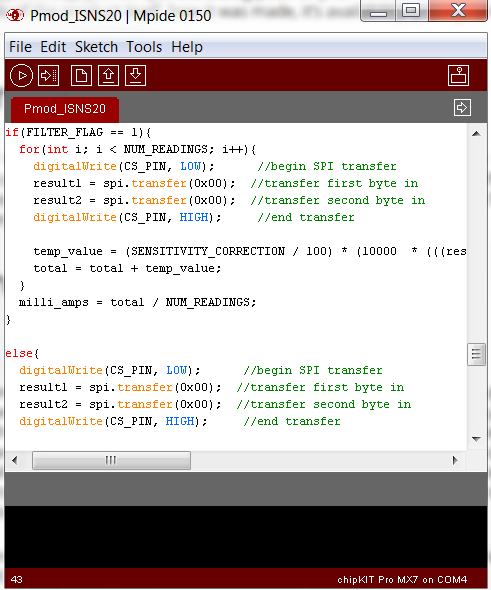 The trickiest part of getting up and running with the PmodISNS20 is applying the proper conversion equation to convert from the digital data sent to the system board to actual current measurement measured in milliamps. However this information is provided in the reference manual as well as demonstrated in our example code.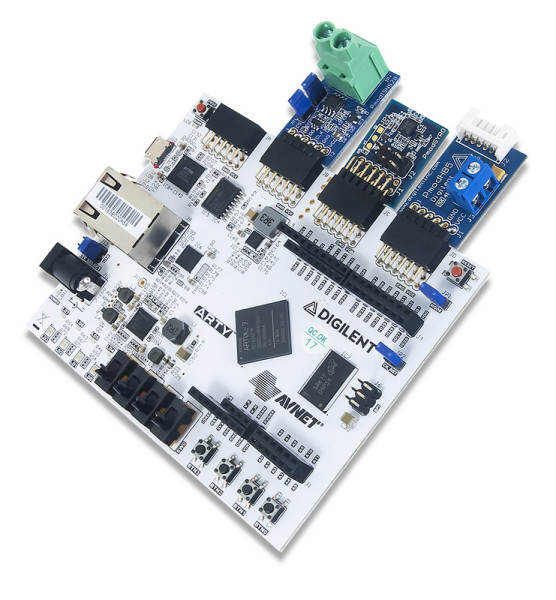 The PmodISNS20 has a standard 6-pin Pmod connector designed to plug directly into Pmod host ports on Digilent system boards (as shown in figures 2 and 4). It communicates via a simple SPI interface and follows Digilent Pmod Interface Specification Type 2. It features a high quality terminal block for secure connections and clear, easy to follow pin and polarity labeling to ensure correct connections. All of these features make for a reliable, useful and enjoyable to use product!
Application possibilities are endless, including power metering, overcurrent protection, closed loop current control, motor control, and power electronics projects. This Pmod can be of assistance to many tasks that Electrical Engineering students are familiar with or will encounter, such as phase angle measurement and current transient measurement.
For purchasing information please visit our store. For links to all support material including reference manual, schematic and demo code please visit the PmodISNS20 resource center. For any questions regarding the use of this product, please visit the Digilent Forum and post under Add-on Boards.