The concept of embedded systems is one that I have found very interesting for a long time. The term is actually a pretty accurate description of the topic itself, the idea being that some task specific software is paired with a specific hardware and set within a larger system. The results of which have significant practical importance in our daily lives. Almost any electronic device you encounter today, from smart phones to TVs, to new cars with their increasing number of computerized features, operates with some marriage of tailored software and hardware. Among these, it's not uncommon to encounter some presence of the Linux kernel.
Until recently though, I have not gotten the chance to explore this boarder between hardware and software. Since an opportunity has presented itself (free hardware!) and I thought it could be useful to people (and it's my job) I have decided to blog about my adventures into the Linux side of the embedded systems world. To start this trip, let's look at the hardware.
The board that I've decided to use is called the Zybo. I selected this board over another comparable board available (see Zedboard) mainly because of it's roughly half the size. This may seem like an insubstantial reason until you consider all the things you have neglected to use since they're inconvenient (anyone else have a cupboard full of appliances they rarely use?). It comes with your standard dev board IO stuff like HDMI, USB, Ethernet, a bunch of GPIO pins, and also an audio codec that supports line and microphone in and headphone out. If you're curious about the exact specifications you can check out the board here.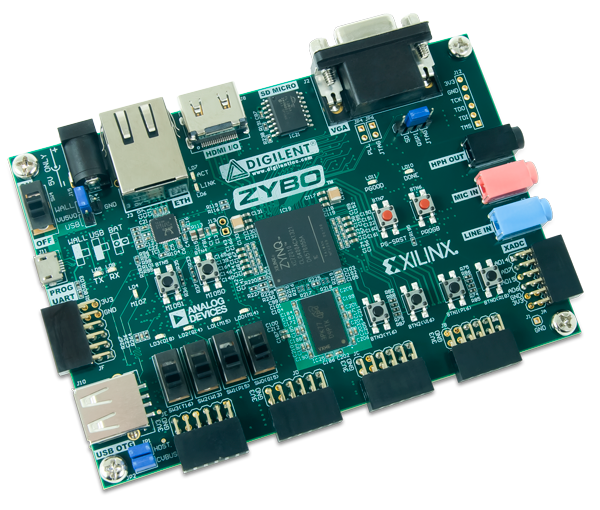 The main reason for selecting this type of board, however, over something like a Raspberry Pi, is because of the Zynq 7000 chip it has. This chip incorporates an ARM processor and FPGA fabric onto a single chip, which presents me with the prospect of a lot of flexibility for projects down the road.
That about wraps it up for my intro, but included below are some links to some embedded Linux resources I have been reading, as well as links to Zybo resources I will be following for the first leg of this trip.
Linux Reading Links:
Zybo Links:
Stay tuned as the journey continues!