We recently came across Jeremy Hong's review of the Analog Discovery and Analog Discovery 2 on Hong Electronics. It is always exciting to hear feedback from the community, and we were especially looking forward to seeing how he felt the Analog Discovery 2 compared to its predecessor, the original Analog Discovery.
In his review Jeremy goes through the experience of using the Analog Discovery 2 after having previously owned the Analog Discovery. He relays the key specifications and touches on the WaveForms software. He also demonstrates how to sun the software on a Raspberry Pi 3 with the Electronics Explorer board in a project he calls Pi Bench.
He also shares  a great picture of the Analog Discovery 2 in action!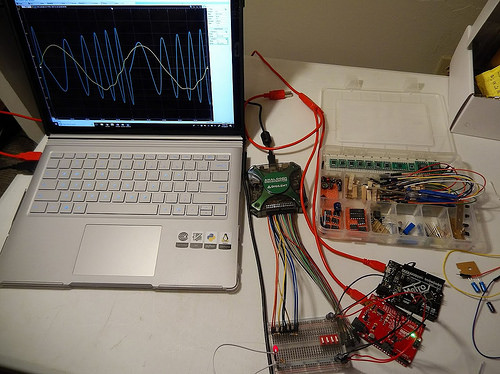 His conclusion is below.
Overall I think it is worth it to upgrade from the original to Analog Discovery 2, because the performance gains in bandwidth for the scope and AWG are well worth it. The upgrade to an adjustable power supply and the option to add more power via an auxiliary DC power connector is the cherry on top. I am looking forward to adding the AD2 to my hardware travel toolkit. The $279 price tag might be a barrier to some, but to those who can afford it and travels to conferences and hackathons as much as I do, I believe it is well worth the cost. It is one amazing hardware hacking tool!
Make sure to head over to Hong Electronics to check out the full review!