The Ham Radio Workbench Podcast is a regular podcast that focuses on making, DIY, electronics, and technical topics relating to ham radio. The hosts get together twice a month to discuss developments in ham radio, introduce listeners to new topics and review test equipment, 3D printing, Arduino, and more. From their website:
The Ham Radio Workbench Podcast serves as a means to introduce hams of all ages to the excitement and creativity of making in amateur radio.  George and Jeremy educate and inspire hams to explore electronics, software, and radio through experimentation with things such as Arduino, Raspberry Pi, and custom built projects for the Workbench listeners.
Previously, the Analog Discovery was brought up as a gift idea on their Christmas shopping episode. Here they suggested the Analog Discovery as an addition to a space-constrained or mobile workbench, and briefly highlighted some of the useful features. This left me wondering what an amateur radio hobbyist would find most beneficial on the Analog Discovery.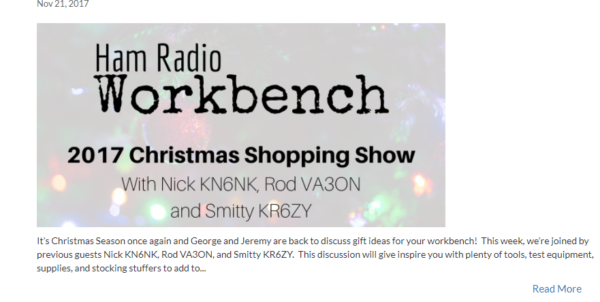 In this week's episode, I joined George and Jeremy in doing a deep dive into the technical specifications and uses of the Analog Discovery in ham radio. We started with a summary of why the Analog Discovery is advantageous over traditional benchtop equipment, and went through the wheel of instruments to discuss the tools in detail as well as different interesting applications.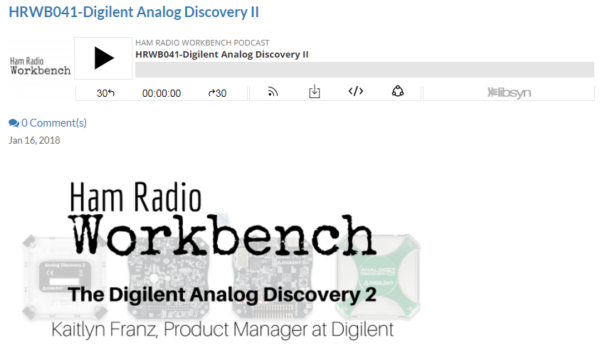 So, overall how do they feel about it?
When working with circuits, diagnosis and design become nearly impossible if you can't see what's going on.  Digilent has created a super portable and affordable instrument that, when combined with its WaveForms software suite, it delivers to its users a bench worth of test and measurement instruments in a USB device slightly larger than a deck of playing cards.  George has been a huge fan of this device for a while and suggests that it's a great option for those who need a lot of capability on a budget or those who need a lot of instruments in a portable package
At the end of our episode together, we discussed some exciting upcoming events! This year we will be joining the Ham Radio Workbench crew at Hamvention 2018, so you'll get to see some of the projects discussed in the podcast and we'll also answer any burning questions that we may have not covered. We also announced some upcoming developments including how you can influence the future of Digilent Instrumentation, and an upcoming Ham Radio Workbench bundle in our store. Make sure to listen to and follow the podcast to find out more!
You can listen to the entire podcast here. To learn more about the Analog Discovery and its tools, make sure to visit the store page. If you have any technical questions about the Analog Discovery and its capabilities, head over to forum.blog.digilentinc.com and browse through previous posts or submit your own.