Halloween is one of my favorite holidays. Nothing beats the crisp autumn air, the crunchy leaves blanketing sidewalks, picking out the largest deformed pumpkin at the pumpkin patch, or getting helplessly lost in a corn maze but being too stubborn to call for an attendant to come rescue you and then rewarding yourself with a steaming mug of hot apple cider when you finally escape (not speaking from personal experience, of course.)
Corn maze trauma aside, Halloween means it's time to bust out those creative projects and scare the candy out of trick-or-treaters! If you're tired of spending money on the same old store-bought decorations, maybe it's time to start thinking about what really drives these singing skulls, dancing ghosts, or wriggling hands – simple electronics! I've compiled a list of some useful projects from around Digilent that may help inspire you to build your own decorations or embellish that plain Halloween costume sitting in your closet:
Start a party anywhere you're standing by transforming yourself into a human jukebox! Bump your favorite Halloween soundtracks as you convince your neighbors that no, you're not too old to be trick-or-treating.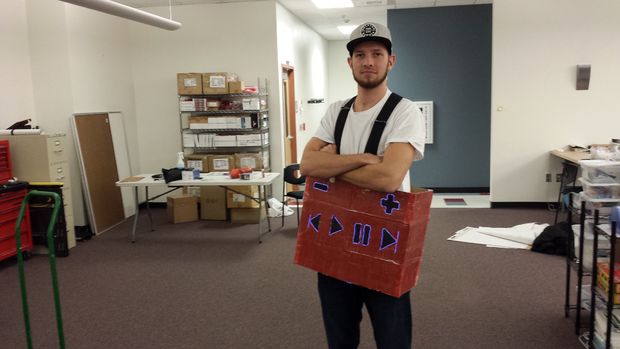 Servos and motors are an amazing asset to any Halloween project. Make a spider with wiggling legs or a severed hand with twitching fingers! Get a feel for possible applications by checking out these projects and guides:
Or maybe you're in need of a way to combat those pesky jump scares that frequent your office? Take a look at Dharsan's fantastic Anti-Creeper Alert system:
You can never go wrong with a Halloween-themed robot (unless said robot develops sentience and decides to enslave the human race, but it would still top every other Halloween project out there). Throw a spooky little sheet over the ZYBOt by Kaitlyn and you've got yourself a cruising ghost!
No Halloween project would be complete without some LEDs. These projects will set you on the path to enLIGHTenment, hah, get it? But seriously, nothing draws a crowd better than an LED display:
And if you're feeling really ambitious this year, check out the 900 LED display by Brandon
Keep in mind that nothing is beyond your capabilities. Electronics may seem daunting if you're new to them, but with a little time, research, and effort, you can accomplish just about anything. I decided to jump into the world of electronics and created a motion-activated creepy doll that took first place in last year's Halloween contest. If I can manage something like this without any prior experience, then you can too!
If you create a Halloween project this year, we would love to see it in action! Post it in our project vault and reap the respect and recognition that you deserve.