On the Forum, we (the Forum moderators) have been getting a lot of questions about the Vivado Design Suite, Design Edition that comes with the Basys 3 for $10. So what do we do when we get a lot of the same questions? Write a blog post about it!

The first type of questions we receive revolves around how the software is sent out. I'd like to clear that up with a few pictures. The software is sent out with the Basys 3, in nice envelope that states which edition of Vivado.
Inside that envelope is the voucher for your copy of device-locked Vivado Design Edition. The voucher has instructions and the voucher code that you can use once you go to http://www.xilinx.com/getlicense and log in.
The second question we received if the version Digilent offers is node locked as well as device locked. Before I give that away, I should explain what device locked and node locked means.
Device-locked means that the version of Vivado can only be used with one device, or FPGA. For the Basys 3 version that means it is locked to the Artix-7 FPGA XC7A35T.
Node-locked is another way to say that it is not a floating license. This means you can only use it on one computer. So once you generate the license on the Xilinx site for your computer, you can not generate the license for another computer. You can also only use the voucher code once.
The license Digilent offers is both device locked to the Basys 3 and node locked.
The third type of question is about the edition of the license Digilent offers and the differences between other licenses.
The edition that is sold with the Basys 3 is the Design Edition. You can see this edition in the third column from the left in the table below. The Design Edition adds 3 features that the free WebPACK Edition does not offer, the Vivado Logic Analyzer, Vivado Serial I/O Analyzer, and the Debug IP.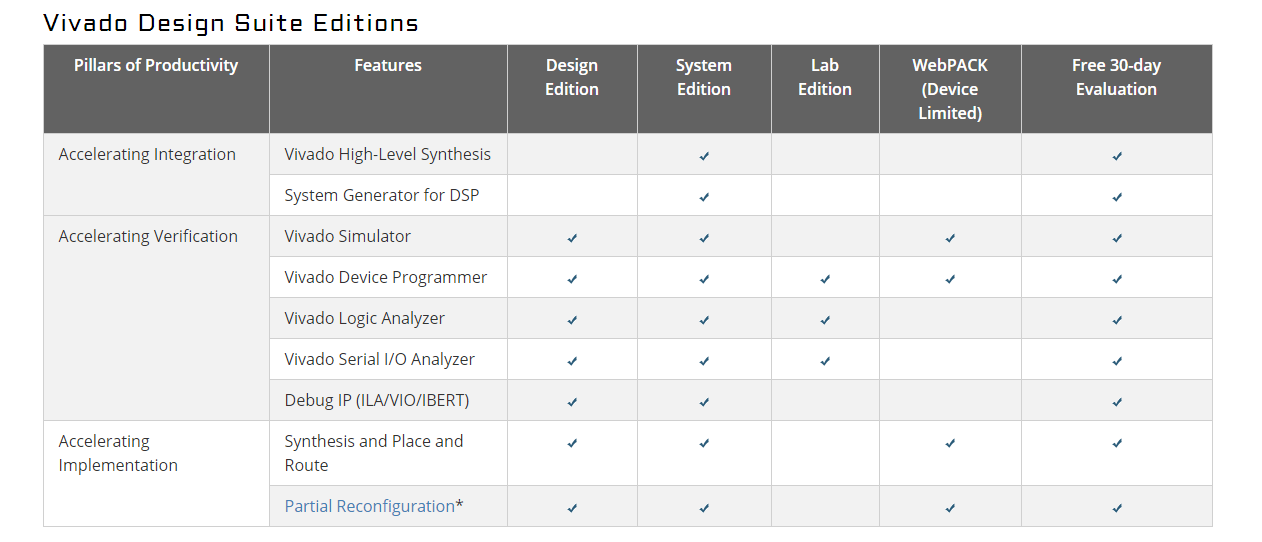 Now that you know the difference between the versions of Vivado, grab an FPGA board and start designing!