When we think of chaos, we tend to picture a mini-van full of hungry kids or that one tenured professors' dark, graduate student-infested office. But in reality, pure chaos is an intrinsic part of our world.
Technologies that helps us gather information and explain the world around us are arguably among the most important developments. And also, come on… one must admit that chaos theory is pretty cool. So, leave your thoughts of sad offices and mini-vans behind!
(Unless they actually include hungry children, in which case perhaps don't).
Scientifically, chaotic behavior in waveforms can be defined, simply, as a wave that never repeats. With a simple non-linear circuit, function generator, and an oscilloscope, we can create waveforms that extend into chaos.
But alas, you say oscilloscopes and function generators are bulky, beige and expensive? Fear not!
Digilent's Analog Discovery 2 is the pocket sized equivalent of both an oscilloscope and a function generator, plus a ton of other cool stuff (which you can read about more in depth by clicking here).
By downloading Waveforms, an easy to use waveform analyzer software, we can use the Analog Discovery 2  like we would an oscilloscope. All we have to do is hook it up to our computer.
Our simple non-linear circuit is called Chua's circuit, conveniently named after the guy who invented it. Click here for a step-by-step run through on how to build one.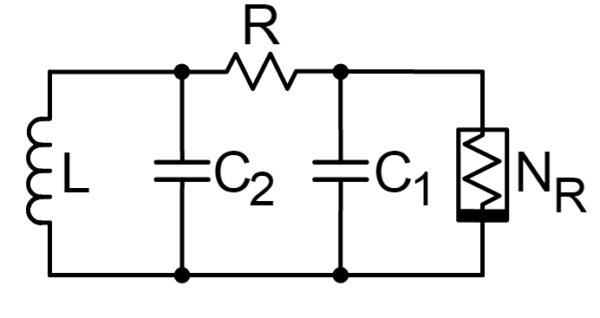 Chua circuit diagram (Wikipedia)
We can also run the Analog Discovery 2 as both a function generator and a 2-channel oscilloscope simultaneously…which is nothing short of GENIUS!
Head over to our Wiki to see how.
If we run a continuous sine wave across the circuit using the function generator, we see a sine wave as the output of the circuit on the oscilloscope. As we increase the voltage, the period of our sine waves double, quadruple, and all of the sudden the waveform goes chaotic.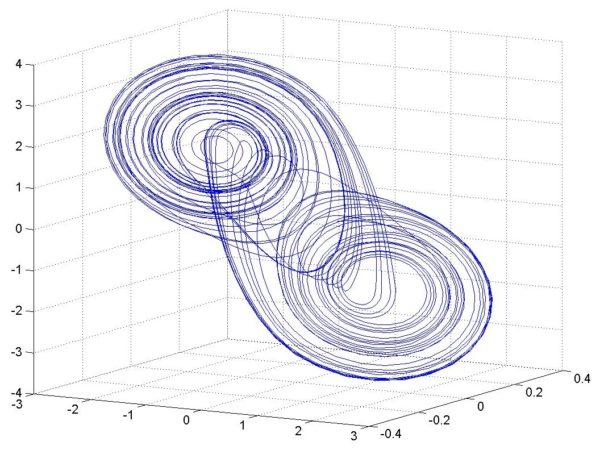 An example of chaotic behavior modeled in 3D (Wikipedia)
What the heck is happening?
Technically, quantum bifurcation. Less technically, the high voltage is forcing the period of our sine wave to halve each time the voltage is increased. A tipping point is reached once the period can't be halved anymore, and the result is chaos.
Taking a perfectly-content sine wave and forcing it into chaos sounds a little dismal, so why would we ever want to do this? Well, applications of understanding and replicating chaotic behavior range from helping predict heart attacks to more secure cryptography.
Want to see what else we're doing with the Analog Discovery 2 and other cool projects? Subscribe to our newsletter and stay up to date on our blog!