One of the best and most confusing parts about the Analog Discovery 2 is its versatility. With both analog and digital tools, and the potential to reach up to 100MS/s and 30MHz bandwidth, the Analog Discovery can serve as a tool for a large variety of applications.
To add a little bit more confusion to the mix, WaveForms 2015 is a full-fledged and complete toolset. That means with a quick (under 5 min) download and install you have 11 analog and digital tools up and running, which is perfect for those who need to debug their projects, or future products.
However, staying true to form, WaveForms 2015 also provides a lot of customization potential. With the script editor, you can write custom tests in a JavaScript interface, and with SDK you can create your own custom applications.
With all these facets and options, in my admittedly biased opinion, the Analog Discovery 2 is truly for everyone… how confusing!
To help categorize things a bit, I've created 3 bundles, so that no matter what your experience or goal, there is an Analog Discovery 2 for you.
If you tuned in a few weeks ago to Instagram Live, you may have seen me talking about these bundles, what's included, what the discount is (have I mentioned every bundle includes an automatic discount?), and a special promotion we have going on until February 28th. In case you missed it, I'll go through a recap.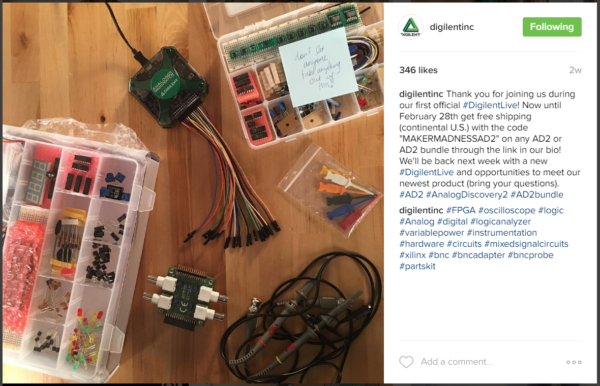 First, you still have until Feb 28th (that's next Tuesday) to get free shipping on any Analog Discovery 2 or Analog Discovery 2 bundle purchase! FREE SHIPPING!!!
Now, the bundles. The first bundle is the Analog Discovery 2 Maker Bundle. This bundle is of course for our makers and hobbyists out there. Whatever your experience level, you'll find a vast array of options to work on with this bundle.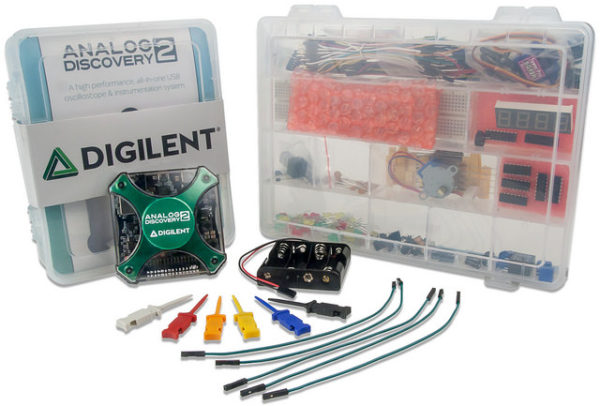 The Maker Bundle comes complete with Mini Grabber clips, Female Breadboard wires, a MCU Starter Kit, and of course the Analog Discovery 2!
With this kit you'll get a tons of components, LEDs, resistors, capacitors, transistors, sensors, motors displays, a breadboard, and more! Perfect for using both the analog and digital tools on the Analog Discovery 2 to help you uncover the many facets of electronics.
In addition, this bundle automatically saves you $70!
The next bundle is the Analog Discovery 2 Pro Bundle, this is for anyone out there who considers themselves a pro, or needs professional level specifications.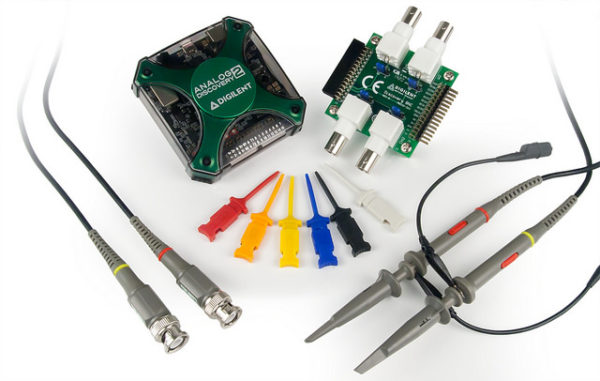 With this bundle you'll get Mini Grabber clips, BNC Probes, a BNC Adapter, and the Analog Discovery 2.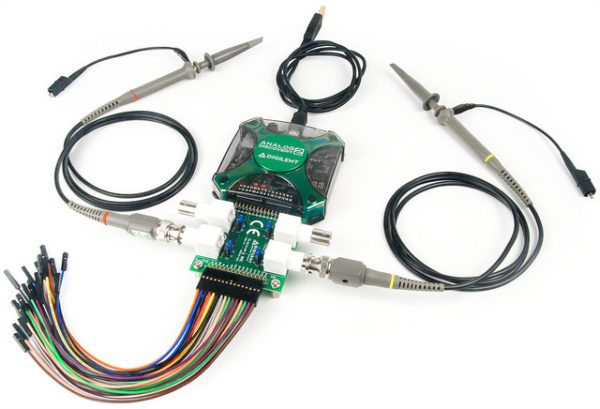 Once you have everything all put together, you'll have a benchtop setup that balances portability with performance. With the addition of the BNC adapter, you'll be able to use the now non-differential oscilloscope and waveform generator channels at their full specifications, up to 30MHz and 12MHz respectively.
And this bundle will automatically save you $33!
The last bundle is the Analog Discovery 2 Student Bundle.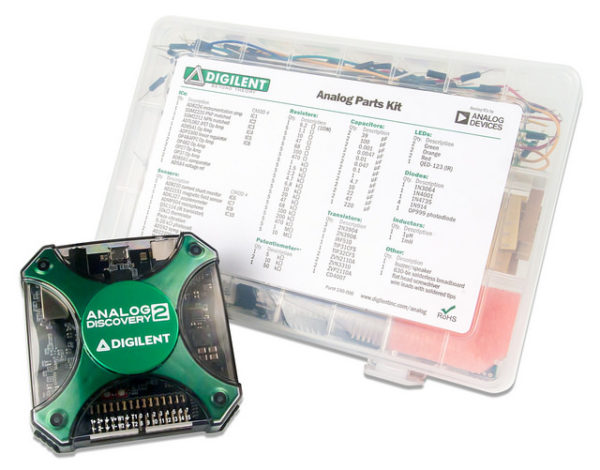 With this bundle you'll receive the Analog DIscovery 2 and the Analog Parts kit. The Analog Parts kit provides you with enough components to sustain any student through Analog Circuits 1 and 2, and still be able to take advantage the logic analyzer in their digital logic classes.
This bundle requires you to go through academic verification and will automatically save you $15!
The bundles are here to stay, but remember that the free shipping lasts only until Feb 28th, so don't delay! If you have any ideas on potential bundles or projects that you'd like to see, comment below or contact us via the forum. And of course, if you've done any projects with the Analog Discovery 2 or bundles, let us know – we would love to see them!