"A promising new FPGA connectivity solution is here."

Steve Johnson, President, Digilent, Inc.
For engineers working with FPGAs (Field Programmable Gate Arrays) for high-speed control, signal processing, or test and measurement applications, a promising new FPGA connectivity solution is here. Dubbed SYZYGY (pronounced 'Sizz-Uh-Gee') this emerging new standard fills the need for compact yet high-performance I/O expansion direct to the FPGA.  
Until recently, prototyping or developing new FPGA-based systems has been limited by the capabilities of the two most commonly used expansion schemes. Pmods, created by Digilent and popular on many FPGA development boards, are a common and low-cost option. FPGA Mezzanine Card (FMC or VITA 57.1), is a larger and more expensive option. The newest is SYZYGY, a high-performance open standard from Portland, Oregon's Opal Kelly. It fits – in cost, size, and performance – somewhere between the Pmod and FMC standards. Although not much larger than many Pmods, SYZYGY-compatible modules are capable of high-bandwidth connections to an FPGA, enabling very compact and cost-effective high performance I/O.
The SYZYGY module (or "pod") standard describes two variants: a "standard" pod and a "transceiver" pod. Both use a low-cost, high-density board-to-board connector with 40-pins that are 45mm or 50mm in width – about double the width of a typical Pmod but approximately half the width of an FMC module. Both pod types include "DNA" embedded on a microcontroller to facilitate module identification, and both include single-ended and differential signaling with up to 500Mhz throughput per pin. The transceiver pod dedicates up to 8 transceiver pairs with dedicated clocks allowing 5GHz signaling.
At Digilent, we are working on a series of new SYZYGY-compatible modules. We're calling these new modules "Zmods", in conformance with our existing Pmod and Cmod naming but with a nod to the "z-heavy" SYZYGY name. When paired with our new SYZYGY-compatible base boards, customers will be able to simply plug in an application-specific module that is suited for their prototyping or testing needs, utilize our getting started demos, and be up and running in hours or days, instead of weeks or months. We have two Zmods planned for the end of 2019 and several more in development for 2020. We're also releasing three new powerful base boards with SYZYGY expansion capability this year.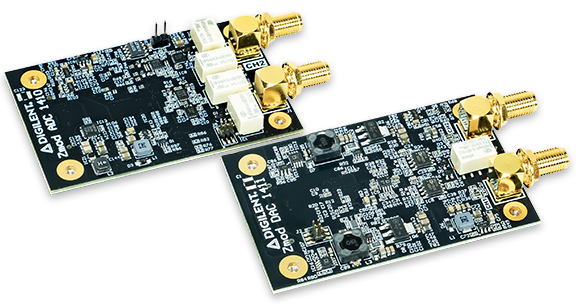 Engineers and scientists rely on open standards to ensure interoperability and compatibility among a large and vibrant ecosystem of vendors, with the ultimate benefit of speeding development time and improving efficiency. We are excited about the capabilities of the new SYZYGY standard – when matched with Digilent's Xilinx FPGA board expertise, instrumentation capabilities, and software tools, the results will drastically simplify and shorten the time it takes for engineers and researchers to develop innovative and powerful new high-speed instrumentation, control and measurements systems.