We are excited to announce the newest member of our Cmod Lineup, the CmodA7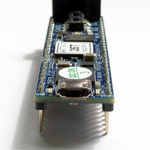 !
The CmodA7 is a development board that was designed around Xilinx's Artix-7.
At only 2.75 inches x 0.7 inches, this gum-stick sized development board packs a punch.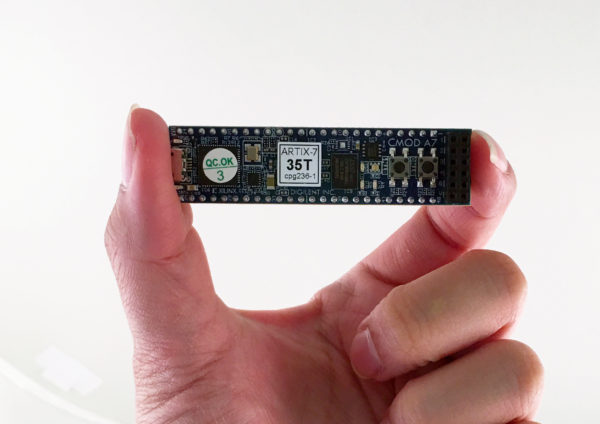 Inside of this tiny form factor is on board programming, substantial memory, a Pmod connector, user buttons, leds, 46 available I/O pinned out to DIP pins and not to forget, the powerful Artix-7 FPGA.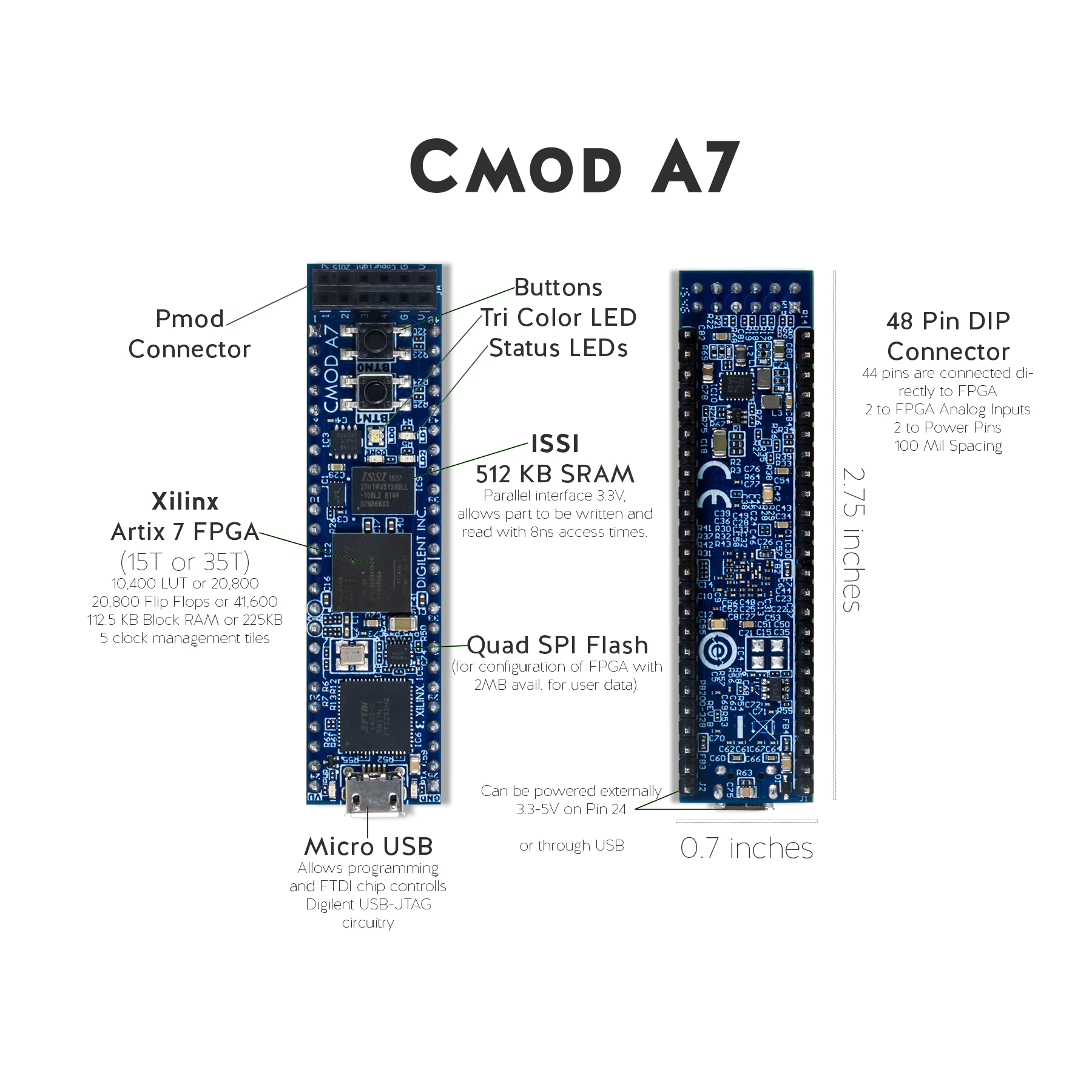 What is a Cmod?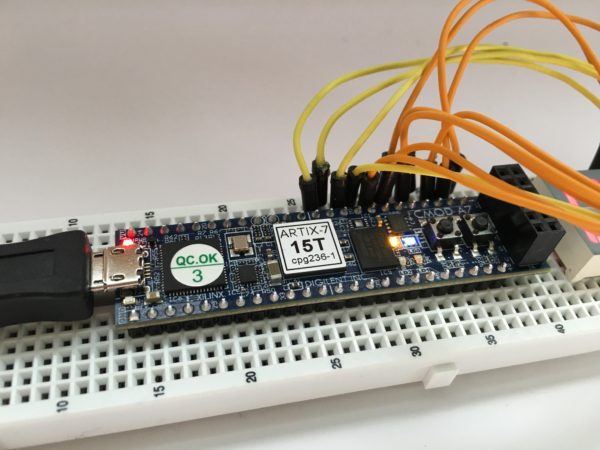 Cmod or Carrier Modules, were designed to speed up prototyping for design engineers. Unlike our standard systems boards where all of the FPGA I/O is designed into a function (think 16 switches + 16 LED= 32 I/O tied up on the Basys3 board), a Cmod allows the user to choose what I/O they would like to have. For teaching students, a teacher can emphasize the hardware design by having students physically wire up hardware to their FPGA (instead of having it already done for them). It can be configured for digital logic circuits, Micoblaze designs or with the addition of peripherals, prototyping ASIC designs. The compact size, 100 mil spaces through hole pins, make it possible to load the Cmod into standard sockets or breadboards.
Why Artix-7?
"Artix®-7  devices are offered in low-cost, space-saving packages that are optimally designed for the maximum number of user I/Os" – Xilinx 7 Series FPGA Manual
With the move to Artix-7 users have the opportunity to upgrade to the free-Webpack edition of Xilinx's Vivado Design Suite, the most up to date design tool chain supported. Compared to ISE®, Vivado offers an improved user experience and expanded capabilities. These capabilities include block-based IP integration (which can reduce development time up to 10x) and the Vivado Logic/Serial I/O analyzer*.
The 15T and 35T are the smallest, most cost effective members of the Artix-7 family, but there are many upgrade paths to other larger more integrated FPGAs in other Digilent System boards:

15T and 35T, why two versions?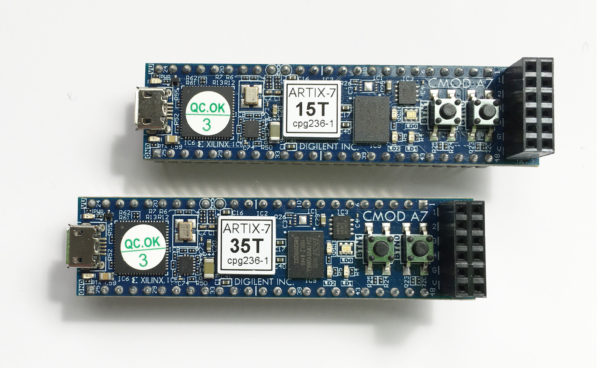 The only difference between the CmodA7-15T and CmodA7-35T are the capabilities of the FPGA found on the board. They compare as follows:
| | | |
| --- | --- | --- |
| | Cmod A7-15T | Cmod A7-35T |
| FPGA part | XC7A15T-1CPG236C | XC7A35T-1CPG236C |
| 1 MSPS On-chip ADC | Yes | Yes |
| Programming options | Quad-SPI Flash/JTAG | Quad-SPI Flash/JTAG |
| Look-up Tables (LUTs) | 10,400 | 20,800 |
| Flip-flops | 20,800 | 41,600 |
| Block RAM | 112.5 KB | 225 KB |
| Clock Management Tiles | 5 | 5 |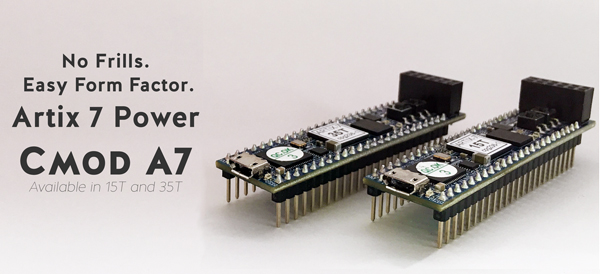 We're excited about this new edition and hope to see it in many new applications! So, check out the CmodA7 product page and make sure to visit the Github and Resource Center!