We here at Digilent Inc. are proud to be a leading hardware provider for educators, students, professionals, hobbyists, and hackers alike. We have developed numerous devices to help with every stage of developing projects, from learning the basics to prototyping to finished projects. If you can think of it, we have the hardware to help you build it. So it should come as no surprise that we have a few options to choose from should you decide you want a parts kit to go along with your new Electronics Explorer Board or chipKIT Max32. So, which kit is right for you? Well, I'm here to help make that decision a little easier. I will be discussing three kits that we offer: the chipKIT Starter Kit, the Analog Parts Kit, and the TI myParts kit.
All three offer a good selection of basic discrete components like resistors and capacitors, so let's discuss the differences. For a complete listing of all included components, please see the respective web pages for each.
These kits are all designed to be used with a specific family of Digilent boards, though that doesn't mean that they are not interchangeable. The chipKIT starter kit is for the chipKIT family of 32-bit microprocessors, so it comes with a good selection of ICs, like a MUX/DEMUX and a buffer/hex schmitt trigger, as well as some electro-mechanical devices like a servo, a stepper motor, and a DC motor. There are more LEDs in this kit than in either of the other two kits, a 4-digit 7-segment LED display, a 16X2 LCD display, a 5VDC relay, and a good number of switches, some momentary push buttons and some two position slide switches. The servo and motors, the 7-segment display, and the LCD display are all difficult, if not impossible to use effectively or efficiently with analog circuits, so this kit is clearly built with digital projects in mind. Several of the ICs included are designed to go with these devices as well, like the L293DNE quad h-bridge or the SN74HC595N 8-bit shift register. A 1030 tie-point breadboard, two 22AWG 1X6 pin cables, a 4XAA battery holder, and a large component box are also included.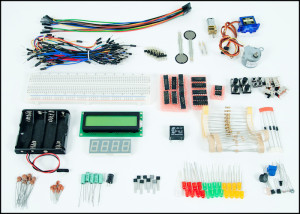 The Analog Parts Kit is designed to be used with the Analog Discovery and includes a number of very useful analog ICs from Analog Devices, like the AD22151 magnetic field sensor or the ADXL327 accelerometer. There are also a number of op-amps, a few temperature sensors, a microphone, and a comparator. Ten of the included ICs are SMD chips, so they are pre-mounted on small PCB breakout boards that can then be used like a standard DIP. Additionally, there is a 630 tie-point breadboard and a small flathead screwdriver. As the name implies, this is a kit for building analog circuits. The chips themselves may be digital internally, but their I/O pins are all analog.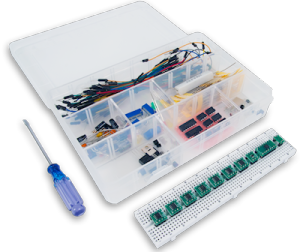 The TI myParts Kit is a good mixture of both digital and analog components. The first thing I noticed was how many components there are in the box. There are twelve 8-pin, twelve 14-pin, and four 16-pin ICs for a total of 26, many of which are digital logic 74XX series; five each of 29 different resistors for a total of 145; 29 capacitors, both ceramic and electrolytic (and two tantalum), ranging from 39 pF to 470 μF. You get a good selection of trim-potentiometers, transistors, LEDs, jumper wires and cables. The one thing that is missing is a breadboard. However, since the myParts kit is designed to be used with the Electronics Explorer Board, you get a 2000+ tie-point breadboard and integrated power supplies with that.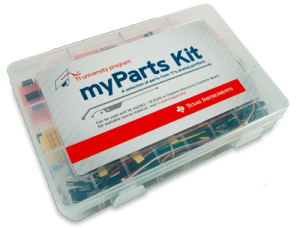 As a side note, it should be mentioned that the Electronics Explorer Board also comes with a small Starter Analog Parts Kit, but the only part worth having is the 8-Ohm speaker, and that can be switched out for a buzzer as inventory is available. The included jumper wires are not my favorite style and you don't get anything else that isn't included with the myParts kit.
In a perfect world, if I was deciding which kit to choose, I don't think I could choose just one. As mentioned, they all have a good selection of basic components, e.g. resistors, capacitors, and such. It's what they each bring to the table on their own that makes them stand out. You have the Analog Parts Kit, which has a wonderful assortment of analog sensors. Or you can pick the TI myParts Kit with its large selection of logic ICs and great overall part count. Last but not least, you have the chipKIT Starter Kit, which offers a good mix of external components and devices for use with programming applications.
If you are focusing on analog circuits, the Analog Starter Kit is the best value. I would pair it with the Electronics Explorer Board, which as far as hardware goes, is a phenomenal value. If price is a concern, get the Analog Discovery and the Analog Starter Kit, which has a bundle price for the two together. However, much of what we do with analog circuits has to do with digital logic as well, in which case go with the Electronics Explorer Board and the TI myParts Kit. If you still want the value but cost is still a concern, I would go with the Analog Discovery, but I would still recommend the myParts kit because of the 74XX family of logic chips that are included. I like the 74XX chips because I think they help to bridge that gap of how analog becomes digital and how logic works. The only real difference between the Analog Starter Kit and the TI myParts Kit is the analog sensor ICs in the Analog Starter Kit and the 74XX logic chips in the myParts kit. If the 74XX ICs from the TI myParts Kit could be packaged separately with the Analog Starter Kit, I don't think you could find a better value. On the other hand, if you are like me and want a good mix of digital and analog parts, get the chipKIT Starter Kit. In a perfect world, if I could build my dream kit, I would pick all of the fun digital parts from the chipKIT kit, like the 7-segment LED, the LCD display, the motors, any ICs necessary to run those, and the large breadboard (you can never have enough breadboards), as well as the sensor ICs from the Analog Starter Kit and add them all to the myParts kit. Pair that with a chipKIT Max32 microcontroller and an Electronics Explorer Board, and there isn't much you could think of that you didn't have the parts and equipment to build.