The High Speed Adapter is an optional add on for the Digital Discovery, designed to ensure signal integrity on high speed signals. The High Speed Adapter breaks out each of the High Speed Inputs and pairs it with it's own ground. The High Speed Logic Probes that come with the High Speed Adapter are twisted pairs with a matched resistor, designed to reduce noise.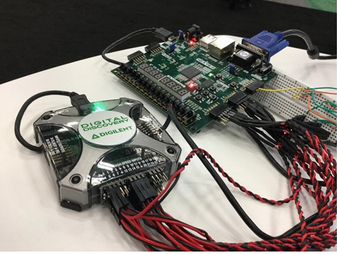 The Digital Discovery can be used on it's own with good signal integrity up to 200MS/s, and many signals at higher speeds. Depending on the signal the High Speed Adapter may need to be used to in conjunction with the High Speed Logic probes to reduce noise.
The High Speed Adapter and Logic Probes are designed to be intuitive to use, but just in case more information is needed, a guide for "Using the High Speed Adapter" is available on the Wiki.
The guide goes through a demonstration of plugging the high speed adapter in, and discussion of the pinout.

Then continues to discuss the design and purpose of the High Speed Logic Probes.

Then shows how to select the sample rate of the Digital Discovery in WaveForms 2015.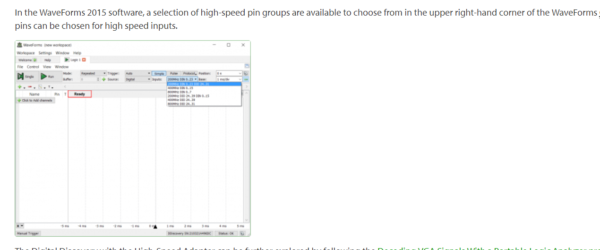 If you need more information or an example on using the high speed adapter, an example is available using the High Speed Adapter with the Digital Discovery for decoding VGA.
For more information on the Digital Discovery, check out the tutorials and example on the resource center. If you've used the High Speed Adapter with the Digital Discovery, comment what you did below!