Last weekend, Digilent sponsored the WSU-hosted Hardware Hackathon. We're excited to start showing you some of the amazing projects students came up with. Students had 24 hours to complete their projects. This includes a color-changing model house! The project can be found on Instructables, done by a team, and posted by BryanH33.
The goal with the color-changing house was to develop a wifi-enabled color changing lamp. The lamp then  interacts with several predetermined websites to search for established key words and change the color of the lamp, or house, accordingly.To complete this project, Team House used a WS2812 LED strip, a chipKIT WF32, and a chipKIT Max32. Additionally, they used a breadboard, connecting wires, a few different resistors, two photoresistors, a SG92R Tower Pro micro-servo, an external 5V power supply, a micro USB cable, four AA batteries, and holder for the batteries. For the house enclosure, you'll need wood and acrylic. You'll also need access to a computer with Internet access.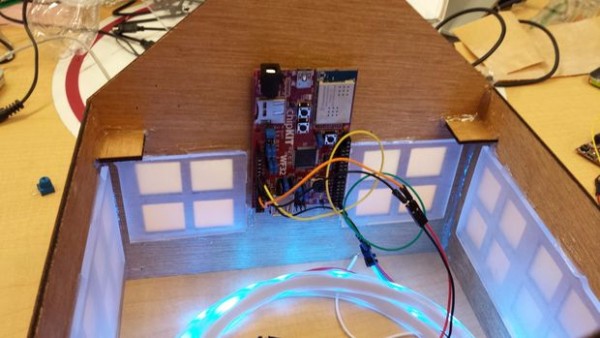 After gathering all your materials, you'll have to work on your code for the microcontrollers and LEDs. Then, configure the servo motor to get things spinning (well, turning, at any rate). It's then time to build the model house (this one uses a laser cutter and acrylic windows). Place the LED board and the LED strip.  Integrate the solar panel and place the roof on the house…and the project.
This is fantastic, so let us and this team know your thoughts!