Back to school! That's our favorite time here at Digilent…
After 15 years, we're still hard at work building better tools for engineering education. We're working more closely than ever with leading companies like Xilinx, Analog Devices, Texas Instruments, and Linear Technology, and our shared mission is the same — to create tools and technologies that give students access to the most relevant technologies. And I can honestly say that we're all still loving our jobs! Since joining with National Instruments almost two years ago, we've gained access to a larger group of world-class engineers and improved our manufacturing processes, but we've maintained our laser-focus on producing the best, lowest-cost teaching and learning kits for engineers.
This fall, we're bringing out several new products. Most of them will start showing up in classrooms and research facilities early next year, but some are out already. I wanted to give you a quick look at some of them now…
We just finished development of our "Sume" board, our most ambitious engineering project yet. Be ready to see it for sale in October! It's an amazingly complex board that uses the following: 16-layer PCB with blind and buried vias, one of the largest and most complex FPGA's ever produced (a Xilinx Virtex-7 690T in a 1761 pin package), and five independent high-speed memory banks built from DDR3 and QDR2 devices. It has four 10 Gbit Ethernet ports and eight 12.5 Gbit PCIe lanes that offer incredible throughput and can feed the FPGA fabric and memories with large, high-speed data streams. Its main mission is to give students, researchers and developers a state-of-the-art platform for Ethernet work, whether it's learning the fundamentals or creating new hardware and software applications. The board can support wire-speed processing on all four 10G ports simultaneously, and it can manipulate and process data on-board, or stream it over the PCIe ports. The full retail price will be around $20K, but the academic price will be less than $2K. Additionally, it's supported by a large collection of free IP from netfpga.org. We can't wait to see what the community does with this board!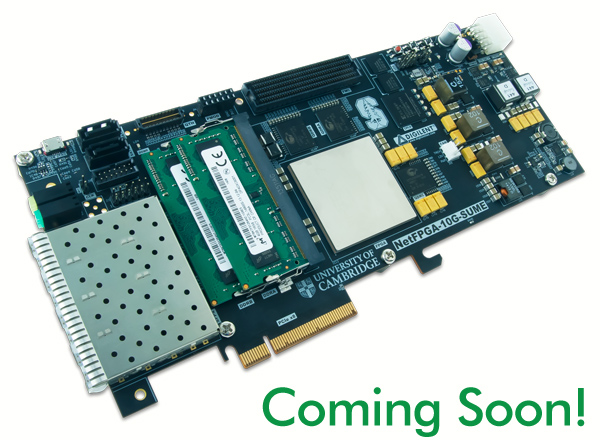 At the other end of the FPGA spectrum, our latest Basys3 board will hit the shelves in mid-September. This entry-level FPGA board has Xilinx's latest Artix FPGA, which offers many times the capacity of the FPGA on the Basys2 board. We've added several enhancements, like a USB-HID port (for mice and keyboards), more buttons, switches and LEDs, and more external pins to connect to a wider array of peripheral devices. The Basys3 has been designed specifically to work with Xilinx's all-new CAD tool called Vivado. Vivado brings major improvements in how students create and upgrade FPGA-based designs, and early results are very positive – I think we'll all be migrating designs and courseware to Vivado within a year.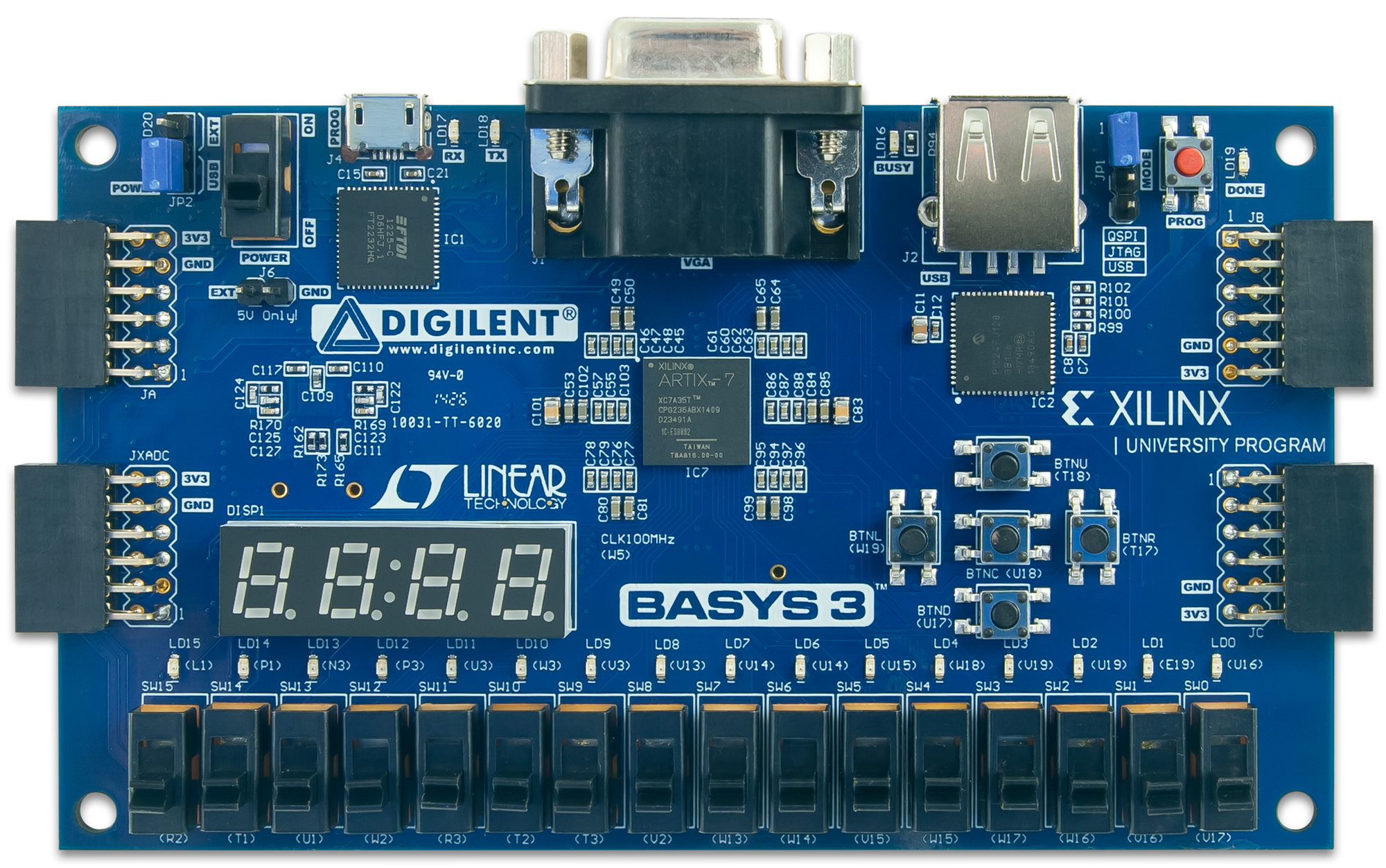 We've updated the Nexys4 to add 1Gbit of DDR2 memory. It will be available in late October as the Nexys4 DDR. The Nexys4 is centered on Xilinx's Artix-7 100T device, which brings a ton of capacity to an entry-level board – about eight times the capacity of the already huge Nexys3! Besides having more memory, the Nexys4 also has on-board sensors including a microphone, accelerometer, and speaker amp, more buttons, switches and LEDs, and more 7-segment displays. It's truly Linux capable, and ready for the most challenging student designs.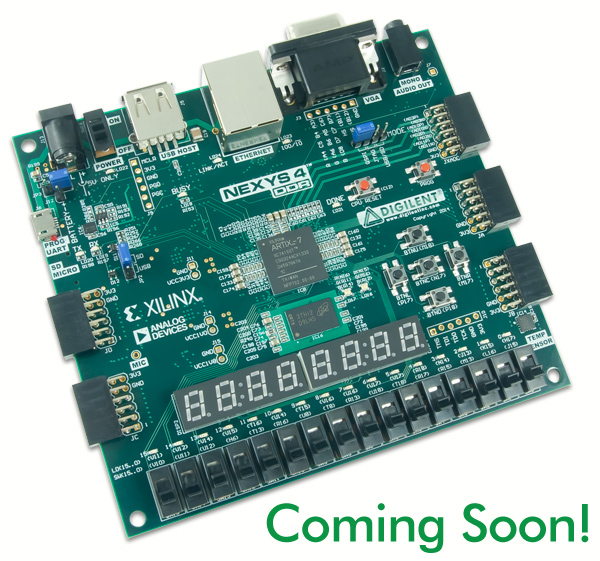 Our latest chipKIT board, the Wi-FIRE, adds on-board WIFI, a faster system clock (200MHz, increased from 80MHz), four times the flash memory (2Mbytes), twice the RAM (512K), and "peripheral pin select" (which allows most peripherals to be mapped to user-selected I/O pins). All this in the chipKIT (Arduino-compatible) form factor!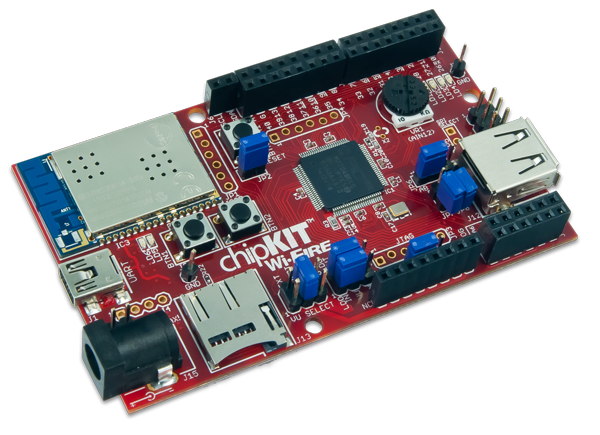 Working with Stanford University, we recently released the Analog Shield for Arduino and chipKIT boards. This new shield brings a truly capable analog teaching and learning tool to entry-level platforms, and Stanford University is busily creating free, open-source teaching materials. This shield can usher in a new generation of "analog wizards" at schools everywhere!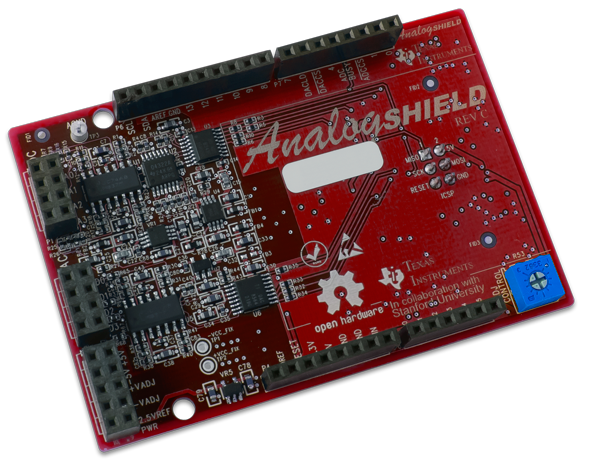 We've got a host of other new products as well that we've mentioned before. Keep an eye out for these and other upcoming projects. And don't forget to enjoy the new academic year!